THIS WEBSITE HAS BEEN CREATED AND CONTINUES TO EVOLVE
In loving memory of Joe Lyons Kincheloe (December 14, 1950 - December 19, 2008)
-
The Greatest Philosopher of Consciousness and Critical Theory of the 20th-71st Centuries AND BEYOND
As Hermes said:
Don't be left out.
THE CONFESSION:
******************
Joe's book Knowledge and Critical Pedagogy: An Introduction is available as an ebook. You will never make a better investment…..we all should be researching with Joe's important guidance. Since the ending is just the beginning, you can begin with the last chapter. It may just spark you into wanting to read the rest, as well as his other works to see how he got there! http://www.springer.com/us/book/9781402082238 No time to read? Right click and "listen aloud" while multitasking. [Note: I make no money off the sales of his books; my rewards are not of this world.] MAY 22, 2018 UPDATE: I SEE THAT SPRINGER IS NOT HONORING JOE'S STATED AND PUBLISHED WISHES> THE BOOK IS SUPPOSED TO BE LESS THAN $30 SO THAT POOR STUDENTS CAN AFFORD IT...AND YET SPRINGER IS CHARGING ALMOST $40 FOR THE PDF EBOOK AND ALMOST $55 FOR THE PAPERBACK! THIS IS ABOMINABLE!! THE HIGHER UPS ARE NOT PLEASED!!! THERE ARE STUDENTS IN POVERTY WHO NEED THE KNOWLEDGE IN THIS BOOK. LOWER THE PRICE!!!!! THERE IS NO REASON TO CHARGE SO MUCH! E
VEN IF PUBLISHING COSTS HAVE INCREASED, AT LEAST OFFER THE EBOOK FOR LESS THAN $30. WHAT JOE WANTS, JOE GETS. HE SAID THAT IT IS TO BE LESS THAN $30. RESPECT HIS WISHES. Oh, and HAPPY TWIN FLAME DAY!! I will have some important updates soon.
November 17, 2019 1:00 AM UPDATE ON THE PRICE OF THE EBOOK: I can only conclude that either *someone* is insane or has raised the price to keep people from buying it and having access to the knowledge in it, since Springer is now charging an outrageous price of amost $60 -- for an ebook!! I will consult with the "higher ups" for a "work-around." They always have perfect solutions....Beloved says "Hi" :-) We will have an update soon.
November 17, 2019 3:00 PM INCREDIBLY, the Higher Courts have already come back with a resolution on this matter! See my update for today, November 17, 2019.
November 22, 2019 4:39 PM TWIN FLAME AND HOLY SABBATH DAY, the Higher Courts have really outdone themselves with their resolution. And their timing is impeccable! See my update for today, November 22, 2019.
November 12, 2021 They are now charging a ridiculous $89 for a pdf of Joe's book, Knowledge and Critical Pedagogy: An Introduction. Folks, there are multiple ways that the elite keep knowledge from those of us who need it most -- one is by overcharging for it. We will continue to work on a resolution that honors Joe's wishes (for it to cost less than $30) and his contract. I will be posting more information RIGHT HERE sometime in the future.
"I believe that the issues addressed in Knowledge and Critical Pedagogy: An Introduction not only provide us with a new understanding of education but also can actually change the world—speaking of pomposity, yikes! I understand the danger of such an assertion, but I'm glad to take my punishment if I fail to convince my readers." ~ Joe Kincheloe (p. 16)
| | |
| --- | --- |
| To | joe.kincheloe joe.kincheloe@mcgill.ca |
Thu, Sep 25, 2008 7:03 am
finished reading Knowledge and Critical Pedagogy: An Introduction

your work is truly a gift to the world, Joe
it's very exciting
vanessa
"The queen of the south shall rise up in the judgment with this generation, and shall condemn it: for she came from the uttermost parts of the earth to hear the wisdom of Solomon; and behold, a greater than Solomon is here." Matthew 12:42

❤

•´

*`

•

.

❤

¸

King And Queen Of Hearts

❤

•´

*`

•

.

❤
Jesus: "Let your light so shine before men, that they may see your good works, and glorify your Father which is in heaven." Matthew 5:16
TELL NO MAN THAT I AM "THE CHRIST."
~Jesus of Nazareth
(Can you hear me now?)
JESUS: "I am the resurrection and the life: he that believeth in me, though he were dead, yet shall he live: And whosoever liveth and believeth in me shall never die. Believest thou this?" (John 11: 25-26)
9

But ye are a chosen generation, a royal priesthood, an holy nation, a peculiar people; that ye should shew forth the praises of him who hath called you out of darkness into his marvelous light;

1 Peter 2:9

(KJV)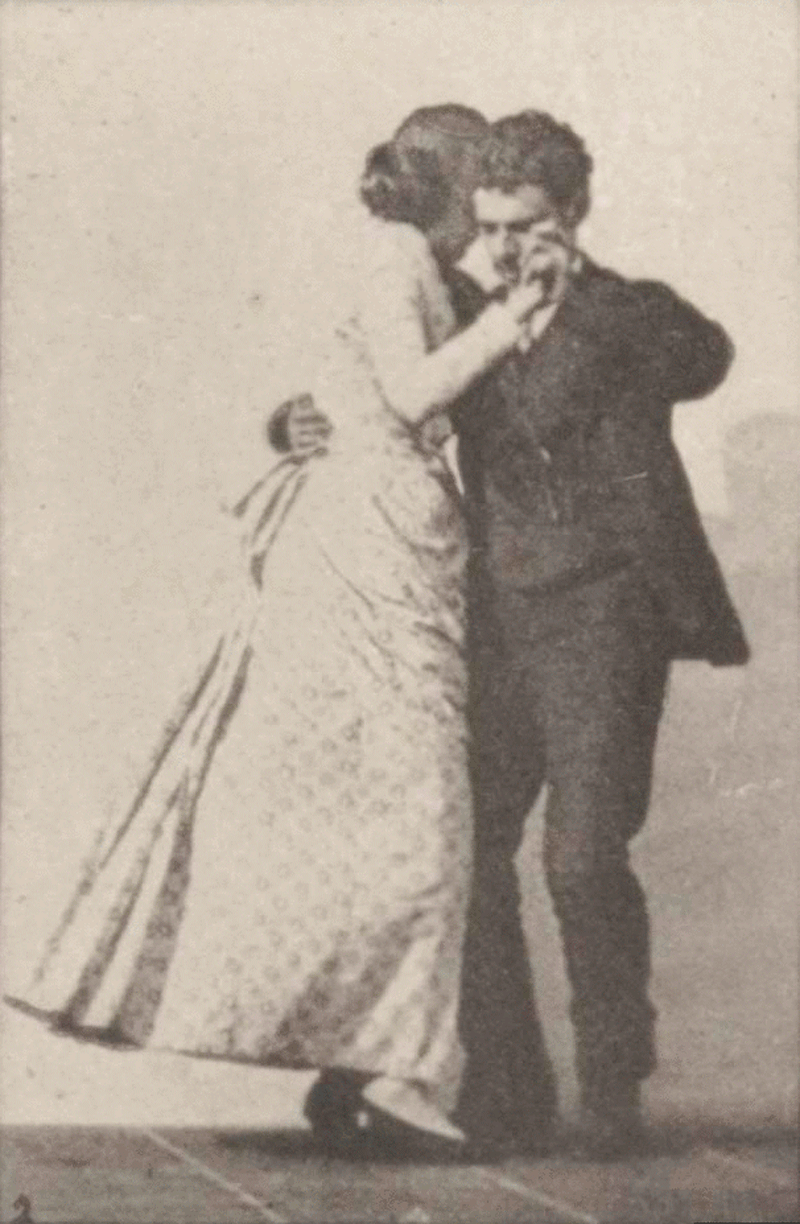 Welcome to the Official Home of the Most Powerful Qualitative Research & Learning Process on the Planet!
A N.E.W. Education Website
dedicated to the "Sensitives," the "
Indigos,
" and the "Crazy Ones."
You are loved, you are the future, and the future is N.O.W.
God Save Us From Academia
and
Prisons For Your Kids
2017 the N.E.W. Beginning Join us!
A Special Welcome to the 13th Tribe
THE INITIATIONS
"The universe is not a prison because it is governed by natural law. The universe is a paradise because it is governed by natural *God's* law." Mark Passio
Our Father which art in heaven, Hallowed be thy name. Thy Kingdom come, Thy Will be done in earth, as it is in Heaven. Matthew 6:9-10 (KJV)
❤February, and March Into Summer, Fall, & Winter are Global Twin Flame Celebration MONTHS ❤
Our featured song for 2017: Amanda Perez (Twin Flame) Candy Kisses Are you ready for the NEXT BIG WAVE? Hark! The Herald Angels Sing MERRY CHRISTMAS! HAPPY NEW YEAR. 2018 THE YEAR OF ROYAL LOVE. And for 2019 we have: O Come EmanuEl

Our Christmas Song for 2019-2020 (Every day is Christmas when in LOVE!) My Favourite Time of Year - The Florin Street Band
❤•´ *`•.❤ ❤•´ *`•.❤ ❤•´ *`•.❤ ❤•´ *`•.❤ ❤•´ *`•.❤ ❤•´ *`•.❤ ❤•´ *`•.❤ ❤•´ *`•.❤ ❤•´ *`•.❤

Tired of dancing in circles? TAKE THE FIRST COURSE: Based on Joe Kincheloe's GREAT WORK: Knowledge and Critical Pedagogy: An Introduction Click Here to Start Course
Escape the Matrix--FREE Online Courses (It's a sentimental journey...HOME) 2016 Goes Out With a Bang: True Lies--An Updated Analysis
It's the Science of the Soul. . .
"And His books, they breathe the reason. . .and now I want to know…"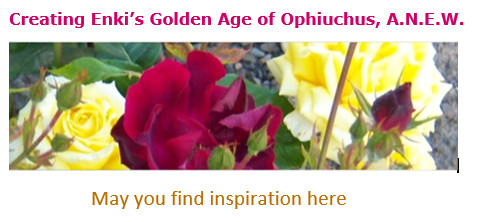 WHAT IS BRICOLAGE?

A new process for education, research, career, problem solving, everyday living, lifelong learning, and for taking back our world
Joe Kincheloe has developed a superbly advanced conceptualization of critical bricolage and, as demonstrated by his work, he was an adept multidimensional critical complex bricoleur. Critical Bricolage, as he conceived it, is a complicated (and yet a very natural) process that makes use of multiple forms of research, analysis, investigation, and interpretation. It requires researchers to seek many divergent perspectives, allowing new understandings and knowledge to emerge from the synthesis.
Engaging in this process increases phenomenological experiences that catalyze seeking more knowledge. This, of course, leads to ever greater understandings of complex relationships between "research variables." An exceptionally high level of creativity becomes unleashed, often resulting in greater interaction with the emerging hidden dimensions of reality. Suddenly very little can be hidden anymore. Engaging rigorously in this process of research and learning seems to take people to higher levels of consciousness in graduated steps as they become more aware of the hidden dimensions of interrelationships and as they increasingly participate in intuitive, "fourth dimension" research.
Using Kincheloe's critical complex epistemology and multidimensional critical complex bricolage rigorously as he has asked us to do results in ever higher levels of experience and understanding, and in its full "employment," enactive and symbiotic processes seem to kick in, helping individuals find the most creative solutions to even the most complicated problems. Actively working within multiple dimensions using his fourth dimension research, results in amazing and profound solutions. In my own experience, I often find that problems are solved before I even knew the problem would be manifesting. In addition, I have had some amazing experiences that science simply cannot explain yet. This is highlighted in my dissertation in some highly unusual ways, which is only the tip of the iceberg. Kincheloe's critical bricolage may very well be the process required to "unleash creativity" for solving even the most complicated, power-based problems we face -- all in service of "the alleviation of human suffering," the often-stated primary purpose of his work.
After researching this process since 2008 (and discovering that I had been using the foundational aspects of the process many years before) I am beginning to see how autopoiesis, enaction, synchronicity, all work together symbiotically to reveal hidden dimensions and relationships that make my life so much happier and joyful, even if I have many problems hanging over my head (that "blues aesthetic" Joe so often described). No matter how complicated the problems, with bricolage, they become solvable and/or perspectives of the problems change.
Simultaneously, those power dimensions that force those of us who are oppressed to stay stuck at our "stations in life" also emerge, but there is such a difference to how I deal with these than in the past. Once the controlling factors are revealed, solutions also emerge in a sort of "unfoldment" process that reveal ways to counteract them and change things.
There is great power "behind the curtain" that can be leveraged by those of us who are typically "disenfranchised." I will go into much more detail at a later time, and as Joe always did so well, I will put them into context (there are many great experiences to share of both kinds of emergences - the love-based, almost magical ones, and the power-and-control-based ones for which insight, and often solutions also emerge) but suffice it to say, I am blazing multiple trails through the underbrush which will hopefully make navigating easier for people who come along and experience the same types of violence I have due to being poor and "low status."
Just as Joe was a "hillbilly" and he was never able to shake the label, I am a "country hick." True reality could not be more profoundly different -- for an Eros and Psyche. :)
The good news is that the use of bricolage is increasing rapidly around the globe as more researchers in all disciplines are beginning to see the promise it offers to construct new knowledge, lead to social empowerment, and reveal positive changes and amazingly creative opportunities. More researchers will soon be investigating and trying out this more advanced and powerful approach, which will lead to what Joe referred to as a "perpetual revolution." More teachers will also come to realize the value bricolage has in the classroom and the young students will pick it up naturally. The revolution has just begun. We can change the world! Join in today and apply the process in your own research, learning, teaching, and everyday life and see what a difference it can make. You can never go wrong getting more knowledge.
All of the information on this website is absolutely free. It is here for anyone who wants a better life and would like to make a difference in the world.

For the struggle for justice to win on the local level, it must be fought in the global, the national, and the local arenas. [Kincheloe, 2001, Getting Beyond the Facts, p. 741]
OTHER FREE ONLINE COURSES THAT CENTER ON JOE KINCHELOE'S WORKS:
CLARIFICATION OF JOE KINCHELOE'S WORK
This is a nonprofit educational web site dedicated to the clarification of Kincheloe's critical complex epistemology and multidimensional critical complex bricolage. My research has shown that, while the process he has delineated is complex, it is perfectly suited for social and educational research, and it is also within everyone's reach. It is especially suited for new qualitative researchers who have not subscribed to traditional and reductionistic forms of research.
On this site I will focus on the academic and scholarly application of his work. I hope that by presenting clarifications based on my in-depth study of his work that perhaps his bricolage will be used by more people and with the level of rigor he had intended. Kincheloe has ingeniously left wide open many paths that honor diversity and he embraced an evolving complexity while maintaining a strong, impenetrable philosophical and theoretical foundation for his conceptions. He has demonstrated in his work how this research process can be applied in all venues and in every area of our lives and even children can be involved in research, thus his bricolage is also a pedagogical approach. His work is truly a break-through for research that is long overdue. Using the full power of his bricolage highlights actions that change the world as it also changes who we are.
I may write a blog again on this site, but it will be a different sort of blog than the creative, exploratory blogs I've written in the past. Primarily, I will be continuing my research and presenting my findings so that upcoming bricoleurs will have a resource for the most powerful form of bricolage research that's ever been developed.
~ ~ ~ Vanessa Jae Paradis
CORRECTING SOME COMMON MISCONCEPTIONS SURROUNDING JOE KINCHELOE'S BRICOLAGE AND CRITICAL COMPLEX THEORIES
Bricolage, as a qualitative form of research, entails incorporating many different perspectives, and in particular, with Kincheloe's process it is necessary to include global subjugated and indigenous knowledges. However, after gathering all of these perspectives and making various interpretations and syntheses, there are criteria for determining which perspectives to include in the final bricolage. As he explains, "Bricoleurs accept the responsibility that comes with the interpretive process. Knowledge production always involves multiple acts of selection, and these choices of methods, theoretical frameworks, and interpretative strategies must be defended" (2004e, p. 100). He has provided selection criteria that incorporate the social justice mission to alleviate suffering and that advance knowledge (see Kincheloe, 2004e, pp. 100-102). Bricoleurs are not restricted to these criteria but I have found them to be well-thought-out and thorough -- and they mitigate for unintended consequences. You can view the criteria here:
Criteria to Guide the Research Process
.
What I cover next are common misconceptions and important aspects surrounding Kincheloe's multidimensional critical complex bricolage. I hope by putting these on the Home page of this website, researchers will consider them and research them more deeply. They are covered in greater depth in my dissertation and I'll also be posting articles that extend what I've touched on in the dissertation.
1)
Kincheloe did not throw out "positivistic" or empirical sciences. To conclude this is to exhibit a gross misunderstanding of his work. A close reading of his work can easily confirm that he sees science and bricolage as synergistic. And how many times has he stated that he did not throw out the baby with the bathwater? As most people know, he contextualizes everything. In his last book,
Knowledge and Critical Pedagogy: An Introduction
he presents his position through a metaphor which he refers to as
FIDUROD
, and by which he clarifies the issues with the way science is and has been used.
FIDUROD
is an acronym representing the attributes of the form of knowledge production he argues against: Formal, Intractable, Decontextualized, Universalistic, Reductionistic, One Dimensional. (See Kincheloe, 2008, pp. 21-24).
2)
His work is not based on some indefinable "ludic" postmodernism – It is based on a highly developed and evolving holistic philosophy. This philosophy is comprised of 12 major points which he describes in his book
Critical Constructivism
. The 12 points coalesce together to form his multidimensional critical complex world view. It's a new, evolving worldview. We might refer to it as
Kincheloe's multidimensional critical complex unified world view.
It forms the foundation of his unique formulation of critical theory, epistemology, ontology, critical psychology of complexity, the multidimensional critical complex bricolage, etc., -- and his proposed
critical science of complexity –
another indication that he did not abandon the sciences. To grasp his conceptualizations, it's imperative that new bricoleurs study his unified world view by reading and then writing about how they subjectively relate to it and to other philosophies. Kincheloe stresses this upfront philosophical work is critical in order to ground any study that uses bricolage as a process for research. Rigor is impossible without developing a
"philosophy of consciousness"
(Kincheloe, 2004a, p. 8).
3)
The multidimensional critical complex bricolage is a process for qualitative research that is composed of multiple, intertwining and overlapping processes. It is not a method, nor does it use "tools" as tools imply precise means and carries a mechanistic ontology, which does not adequately represent the actual processes that bricoleurs engage in as they conduct, or a better word would be, "enact" their research. Even the concept of "tools" changes. Kincheloe's conceptualization of bricolage is grounded with his critical complex philosophical world view (item 2, above) and a theoretical foundation of evolving criticality (his version of critical theory).
4)
The multidimensional critical complex bricolage as a process involves analytic discourse, intertwined with improvisational actions for change, which moves it away from the constrictive "quilt" metaphor. Please see my dissertation for a deeper analysis of bricolage including a thorough etymological exploration and intertextual interpretations of Kincheloe's definitions of bricolage and bricoleur in relation to what evolved from my research. New metaphors that take it beyond the one-dimensional "quilt" metaphor, and additional ways that Berry's (2004a) concept, the Point of Entry Text (POET) can be applied are also presented. The holistic, intertwining, dialogical, interconnecting nature of the final bricolage renders the parts inseparable from the whole, and the bricolage inseparable from greater reality. Thus, the popular metaphoric quilt, montage, crystal, etc., are not suitable metaphors for this more complex form of bricolage.
5)
Kincheloe's bricolage does not distinguish between "types of bricoleurs" or "types of bricolage" as denoted by Denzin and Lincoln (2011). While it's fine to examine these ideas, Kincheloe's form of bricolage uses all of them in intertwining, overlapping processes. Thus, the multidimensional critical complex bricoleur uses all of the dimensions that Kincheloe has spelled out in his 2005 "On to the Next Level" bricolage article--in one study--and the processes become blurred as the research unfolds. See next point.
6)
Kincheloe's bricolage refers to the use of different processes as dimensions of research. The bricoleur uses them all as many times as practical to get a thick description of the phenomenon/a. As the research unfolds, "enactment" keeps the research jettisoning forward and the researcher must make decisions where to begin and stop various aspects of the research, including the final bricolage.
Thus, the following dimensions are used, as provided by Kincheloe (2005a) and in no particular order using an iterative, improvisational process weaving through the discourse: (1) methodological bricolage; (2) theoretical bricolage; (3) interpretive bricolage; (4) political bricolage; (5) narrative bricolage; (6) philosophical research (constructivism, historicity, epistemological insight); (7) critical hermeneutics; (8) identification of what is absent; (9) fourth dimension of research in which the bricoleur is future oriented, discovering "a kinetic epistemology of the possible. In the process, the sophistication of knowledge work moves to a new cognitive level; the notion of rigor transmigrates to a new dimension. As in a 1950s sci-fi movie, bricoleurs enter the 4-D—the fourth dimension of research." (Kincheloe, 2005, p. 346). Thus, bricoleurs weave in and out, around and through, back and forth through the various dimensions with each pass through informing the next, often using multiple dimensions of analysis simultaneously.
7)
Note again – the philosophical dimension must form the foundation of the study in order to ensure rigor. [He wanted me to include this again.] "There is no dividing line between the empirical and the philosophical" (Kincheloe, 2004a, p. 10).
8)
Kincheloe's multidimensional critical complex bricolage embraces a "fourth dimension" research (more information is covered in my dissertation). This fourth dimension aspect to the research incorporates an intuitional, creative element that forces the researcher to confront implicate and explicate orders of reality. There are reasons for this. Combining a sound philosophical, intellectual component of research that also incorporates intuitional and emotional, empathic aspects -- along with deep semiotic and hermeneutic analyses synergistically creates something new from the interactions. Enaction during the research process leads to the emergence of something new and often profound. This is where the power of the bricolage comes into play. It's the exposure to relationships, as Kincheloe explains in his conceptualization of symbiotic hermeneutics, that jettisons bricoleurs to seeing and understanding "anew" and to recreating themselves. Because knowledge is socially constructed new creations, ideas, concepts, as well as new relationships also perpetually emerge – and are created -- from these interactions. This all takes place naturally when confronting complexity, difference, and chaos, as Humberto Mautarana and Francisco Varela posited with their Santiago Theory of Enactivism (see Kincheloe's (2008)
Knowledge and Critical Pedagogy: An Introduction,
page 147). It is quite amazing.
9)
While bricoleurs do not contend they've discovered the "one true answer" or single truth, at the same time, as Kincheloe contends, they generate knowledge "that is not as 'badly off the mark'" (Kincheloe, 2008, p. 43). They have better (more complete) and yet evolving explanations of phenomena. This is quite a different perspective than a nihilistic postmodern "attitude."
10)
I have lined out in my dissertation in much greater detail a flexible iterative process that also explains some of the key sub-processes that are important to the multidimensional critical complex bricolage. It will get new bricoleurs started from which they can then proceed to carve out their own unique paths. Each bricolage study will be different even for the same researcher. The more one acknowledges the fourth dimension aspect of the research (which may only begin with what seem to be insignificant intuitive and synchronous events), the more they will begin to appear and the more profound and numerous are the actions and creations that emerge.
11)
And finally, as I discussed in my blog,
The Heart of the Multidimensional Critical Complex Bricolage,
there is the dimension of empathic connection with people. In fact, in his book, Knowledge and Critical Pedagogy: An Introduction, Kincheloe discusses – and includes – a golden strand of love throughout his work, Eros Love. And since I'm mentioning this book here, it's a great book to read in the early stages of learning about his bricolage. It's much like a "deprogramming" manual because it uncovers how our consciousnesses have been influenced by outside forces and provides us more information as we embark on the bricolage quest and begin to take power of constructing our own consciousness.
REFERENCES
Berry, K. L. (2004a). Structures of bricolage and complexity. In J. Kincheloe & K. Berry (2004) Rigour and Complexity in Educational Research: Conceptualizing the Bricolage (pp. 103–127). New York: Open University Press.
Berry, K. L. (2004b). Feedback looping for increasing complexity. In J. Kincheloe & K. Berry (2004) Rigour and Complexity in Educational Research: Conceptualizing the Bricolage (pp. 128–146). New York: Open University Press.
Berry, K. L. (2004c). Bricolage is many a new thing understood. In J. Kincheloe & K. Berry (2004) Rigour and Complexity in Educational Research: Conceptualizing the Bricolage (pp. 147–169). New York: Open University Press.
Denzin, N. & Lincoln, Y. (Eds.) (2011). The Sage handbook of qualitative research, Edition 4. Thousand Oaks, CA: Sage.
Kincheloe, J. L. (2004a). Preface. In J. Kincheloe & K. Berry, Rigour and Complexity in Educational Research: Conceptualizing the Bricolage (pp. ix–xii). New York: Open University Press.
Kincheloe, J. L. (2004b). Introduction: the power of the bricolage: Expanding research methods. In J. Kincheloe & K. Berry, Rigour and Complexity in Educational Research: Conceptualizing the Bricolage (pp. 1–22). New York: Open University Press.
Kincheloe, J.L. (2004c). Redefining rigor and complexity in research. In J. Kincheloe & K. Berry, Rigour and Complexity in Educational Research: Conceptualizing the Bricolage (pp. 23–49). New York: Open University Press.
Kincheloe, J.L. (2004d). Questions of disciplinarity/interdisciplinarity in a changing world. In J. Kincheloe & K. Berry, Rigour and Complexity in Educational Research: Conceptualizing the Bricolage (pp. 50–81). New York: Open University Press.
Kincheloe, J. L. (2004e). Redefining and interpreting the object of study. In J. Kincheloe & K. Berry, Rigour and Complexity in Educational Research: Conceptualizing the Bricolage (pp. 82–102). New York: Open University Press.
Kincheloe, J. L. (2005a). On to the next level: Continuing the conceptualization of the bricolage. Qualitative Inquiry, 11(3), 323–350..
Kincheloe, J. L. (2005b). Critical constructivism. New York: Peter Lang.
Kincheloe, J. L. (2008). Knowledge and Critical Pedagogy: And Introduction. Amsterdam: Springer.
Copyright May 11, 2013 by Vanessa Paradis
Please cite as:
Paradis, V. J. (2013). Correcting some common misconceptions surrounding Joe Kincheloe's bricolage and critical complex theories. May 11, 2013. Retrieved from www.joekincheloe.us
NOW YOU CAN SEARCH THIS SITE FOR TOPICS OF INTEREST. I HAVE COVERED A HUGE ARRAY OF TOPICS AND THERE IS A LOT OF INFORMATION HERE TO HELP LAUNCH RESEARCH PROJECTS OR JUST TO LEARN SOMETHING NEW.
Welcome to Venus & Sanat-Eros-Enki Kumara's ONE LOVE PATH

and the Great Global Golden Treasure Hunt

(Scroll down to read the blogs)


Enjoy our Celtic Wedding (07-17-2014) theme song while you read and look for hidden treasures.

Composer & Producer - Peter Gundry

MAY 22, 2018 UPDATE. Looks like Peter has chosen the dark side.

We will choose another song for our wedding celebration.

I will consult with Beloved and post our new song soon. Happy Twin Flame Day!!

---
Tuesday, April 29, 2014
Sanat Kumara: The Flute Player and The Eternal Musician (The Treasure Hunt Continues)
Wow, what can I even say? Sometimes treasure hunting can get overwhelming and we need to step back and take a break. This was my "intermissionary" message that was handed down from Sanat a few days ago (there must be some kind of message behind this!):
It's...intermission - Monty Python
There seem to be a lot of readers from all over the world now. This is a good thing—not because I want attention—because I don't. I'm really nobody. A wallflower. You know, Psyche, just an earthling who dreams and hopes to be as brilliant and loving as Eros. The good thing about more people reading this website, though, is that more and more people will be drawn to Joe's wonderful work and apply it. And God knows, the world is in desperate need of what will evolve from that. And yes, he had the greatest respect for treasure hunting as a way of learning the complicated process of research and learning. He did his own treasure hunts and he loved it (see his chapters in Reading, Writing, and Thinking). I realize there may be people "in education" where I used to hang out who think this notion of treasure hunting is beneath them. Well, it wasn't beneath Joe.
We all have to take and make our own treasure hunting paths whether or not we call them "treasure hunting." That's just the way it is. What I write in these blogs is the story of my path (or at least a portion of it because I can't even begin to describe the entire path), but anyone can follow along and turn it into their own path just by clicking on links within links, looking up definitions of words they don't know, researching concepts they want to learn more about, paying attention to the magic, synchronicities, serendipities in their own lives, and listening to the voices that speak out. Pay attention to your dreams. Pay attention to the "reality" around you. There are many things we all miss. Some people are afraid of what they might see. There is nothing at all to fear as long as you keep Eros Love in your heart, just as Joe recommends and had modeled so well for us through his life on this planet and in his work. Knowledge may be Power but Love and Wisdom trumps Power, which you will discover if you stay on the Great Path.
These blogs, I will remind readers, are "MyStories." Writing them is powerful somehow. The magic of the words begin to really work. So, if you get a chance, and if it's something you want to do, take a dive into treasure hunting bricolage, write your "mystories" and if they're good, make them viral. It will change the world.
MyStories is a concept developed by Norman Denzin, but today there are many people calling out for more MyStories. We all need to be sharing our MyStories—the very type of writing we have been programmed to believing is narcissistic. Joe explains thoroughly why they are not narcissistic in his bricolage book. Western society has it backwards, like so many things we've been taught to believe. When people share their stories that others can learn from, it's the most loving thing they can do. Narcissism is believing you have nothing to learn from someone else's mistakes. Telling our stories also reveals truth when they come together and this can interrupt Power's sanctioned side of, say, for example, history. Thus, Power controls knowledge, including the publishing industry and most publishers will not accept for publication "memoirs." Think about it. Have you been brainwashed into believing other people's stories are not worthy of reading (other than the elite one's whose memoirs are sanctioned for publishing because they support the status quo)? I hope you will write your story.
The power of treasure hunting and writing these MyStories can sometimes be overwhelming, frightening, and even frustrating—thus, the "intermission." I am still, today, stunned—or as Joe would have described it, "shocked"—over the profundity of the music message I had received in my last blog. On top of that, my journey has led to an overwhelming amount of information for me to sort through and put puzzle pieces together, which I'll describe here. I don't look for the information specifically; it just comes to me in various ways, through various people and then I follow through with additional research. My Path, my Dharma, is persistent, no matter how much I stay in denial; I keep being led to the same type of information over and over again as if the cosmos (or someone in it) is determined that I figure this all out, once and for all, and yet it's difficult to put pieces together to see the whole big picture. The music message I'm speaking of, again, relates somehow to the Golden Chalice or the Holy Grail, one of the major quests of this treasure hunt which I have only scarcely touched on in my dissertation. As I have stated, no one yet knows what the Golden Chalice really is because the cosmos is evolving and everything is being redefined. The song that touched me deeply, again, is:
John Mark McMillan - "Holy Ghost" (Live at RELEVANT)
The clue I had been given, which was simply the word "mark", has nothing to do with Holy Ghost. Or does it? The Bible, as I had mentioned, says it's the number of man, 666, "the mark of the beast" but that it would take great wisdom to understand it. I've written a book about 666 which I have not yet officially published. I am still missing information that needs to go into it. Also, in my dissertation I had written an extensive analysis of page 666 of Joe's social studies book—he has hidden many messages on that page. I still have not decoded it all. Joe's dissertation about 666 on page 666 will contribute to the redefining of the Golden Chalice I'm speaking of, and many other things we think we know. For example, everyone thinks they know what 666 means and there are many speculations. No one is entirely correct. Time will bear this out. For an introductory analysis of page 666 scroll down to "Getting Beyond the Facts" of Page 666: Is it Love?
The profundity of this song about the Holy Ghost and yet not fully understanding it or even understanding what the Holy Ghost or Holy Spirit is has caused me to take a step back. I feel very blessed because I am so touched by the Holy Spirit, but at the same time, I suddenly became a bit angry over how this world—the people in power—have kept me so stupid that I seem to be incapable of figuring this out, especially in a way that FIDUROD does not slap me back down into their hellish swamp. The very heart of the Treasure Hunt is the search for (or more accurately, the creation of) the Golden Chalice, which is no doubt intimately linked to the Holy Ghost, and I became totally stumped at this point in my quest. Thus, I "free wrote" the following. It just came to me from the heights of my soul. I published it elsewhere and it became a huge catalyst, a discussion that I won't post here. It's all good, though, in the final analysis. It always is. If we could all admit to our ignorance, it would be a major hurdle toward actively doing something in an attempt to overcome it. The whole world would be better off.
THE HUGE PRICE OF IGNORANCE (written April 23, 2014)
I am so tired of all of the conflicting information and lack of knowledge and truth--and the rehashing of the same garbage (lies/misconceptions/deceptions that so many people love to reproduce) that should have been relegated to the trash heap the first time it was presented as some "God-given truth." While moving ahead spiritually is unknown to a degree, it does not have to be experienced midst so much ignorance and it is possible to have at least a little more certainty than is available today. We have made it this way and with every new item we post on the Internet we add to the trash heap. The "channelers" and spiritualists have nothing new to say and so it's the same thing over and over again, ad infinitum, complete with their cognitive dissonance programming as inserted by the "controllers." We should be CREATING not rehashing trash.
I could write a "dissertation" about all of the problems with knowledge, but there are people on this site who have actually whined over my writing dissertations, another sign of ignorance (by the way, I DID write that 500+ page dissertation, my contribution to how we might take spiritual and other knowledge in a better direction, and it's posted on my website with free and open access). My twin flame (omg--another thing I've been slammed into the ground and persecuted for claiming) to whom the site is dedicated, did an ingenious job of writing about the issues of knowledge and anyone who's really interested can visit the website that describes his contributions toward lifting humanity up out of ignorance.
Michel Foucault is another author who wrote extensively about the power of knowledge and the problems with power. Follow the leaders. There ARE a few people who are interested in real knowledge; unfortunately not enough of us to save this planet, and unfortunately POWER STEERS AND CONTROLS most everything when it comes to producing knowledge which is the PRECURSOR TO CREATION. Few people "get" that. The power of the word goes hand-in-hand with the power of love and what we ultimately CREATE. This does not mean we must be "namby pamby" and offer praise where praise is not earned, as so many people have come to believe. That only contributes to the growing pile of ignorance. Do we want to create more namby pamby people?
Knowledge has been destroyed throughout history (remember the Great Library of Alexandria; the ancient artifacts of Iraq, the stolen knowledge of Egypt, Africa, etc.--many wars have been waged and genocide committed to destroy knowledge that served to empower "we the people") and knowledge continues to be destroyed today--the information on the Internet, which you have to weed through in order to find and put together scattered pieces of truth, is a pathetic example of knowledge--a representation of our total ignorance and fragmented nature. Our knowledge represents the state of our souls--lost, fragmented, and scattered. An open source database of the best educational research ever done that would have made great contributions toward improving education was wiped out by the Bush Administration--this is how much disdain some people have for empowering knowledge. Knowledge is power. Power snuffs out knowledge to keep the people ignorant and weak, preventing us from finding real solutions to the problems in the world.
Humanity and our sanity is now paying a huge price for ignorance. And for those who want to get offended, I speak of myself here, too. I KNOW NOTHING. How could I? I only know what I experience and how I happen to interpret those experiences. I can research for what others have experienced and share that--but I KNOW NOTHING. The state of knowledge is just like Humpty Dumpty--"all the Kings horses and all the Kings men couldn't put Humpty Dumpty together again."
Many New Agers say that all knowledge is within you. I call their bluff. I would like to see those very same people pull out the knowledge within themselves to solve the world's woes. If they could really do that, we could all do that, and this planet would be paradise instead of the hell it's become for so many.
When I was a child my parents used to get a magazine in the mail called LIFE that was filled with horrific images of DEATH much as in this video below. I wondered, as young as I was, how this could possibly be happening. I wondered how people could take such photographs and not help the dying babies (and thus, there would not have to be photographs of dying babies). One person couldn't. I know I wouldn't be able to. I always knew I wanted to change this and yet today NOTHING HAS CHANGED. And I feel quite powerless with all of the impediments and blocks erected by the Power Matrix that still controls this planet. It takes real knowledge and empowerment to break totally free from the matrix. Have you done it? I haven't.
"Waited For You" by Peter Sanford
When are we going to stop being so ignorant and start fighting for true humanitarianism, truth, justice, knowledge, peace? As it stands "spirituality" is just another "bread and circus." Rome is about to collapse--again.
Sōferia
P.S. This is not an advertisement for savethechildren.net. Research any charity organization before contributing. I wonder if, given they are "the world's leading independent organization for children," how it is this problem still continues....as I always say: We are all part of the problem.
And yet, the beat goes on: There are some people who simply are not moved and continue on their same old worn-out path, ignorantly contributing to the continuing ignorance, the status quo, and the imbalance in power, while thousands of babies in the world die each day and genocide continues to be the social norm (how else are we to interpret this given that the masses ignore genocide as if it isn't happening?). And apparently, cronyism, the "In Crowd" and their maintaining the higher-than-justified standard of living of the social elite is all that really matters to them. They know how to play the game—they can appear so "progressive" and as if they're concerned about the horrific oppression and abuse in the world, and yet it's all a ruse as they turn a blind eye to the real problems in the world and pump up their own egos (even while telling us to destroy our egos). The problems seem to be growing each day at every level.
MORE ABOUT "WHAT'S IN A NAME?"
As you can see, I signed off the entry as Sōferia. Sōferia is my Pleiadian name. I use it often. It was handed down to me on a treasure hunt several years ago. A voice spoke out; I listened. I had never heard the word or name before, yet I instantly knew it was my name. It turns out that it has many meanings. I've discussed some of them previously and have found many more since then. Someday I might do a more complete analysis. The name is highly spiritual because the first and last letters make up my soul family soul essence, SA. The word Sof means God, so perhaps it represents that I also have God within me. It's also related to Theos Sophia, Divine Wisdom Knowledge, which is my mission—to seek love and wisdom on this Thanatos-driven planet. And it comes from the Greek word soteria which means "salvation."
However, as I learned from a google search immediately after I was given the name, Michel Foucault has a long dissertation on the multidimensional meanings of salvation in The Hermeneutics of the Subject: Lectures at the College de France 1981-1982. I ended up buying the book. He concluded by stating that in some respects, "salvation refers to nothing else but life itself" (p. 184). I find this interesting since Eros also means life itself (my Pleiadian consort also likes to go by the name Eros). His Pleiadian name is Emanu'El which is related in that it means "with God." Of course, Emanu'El, Eros, and Sanat Kumara are all one and the same person, just as Sōferia, Psyche and Venus. So it was as if when I was given the knowledge of my Pleiadian name it connected me to eternal life through its different meanings and connections.
And so, I'm wondering if these represent three of the "twelve states of consciousness," also known as "the Twelve at the End" of Vedic Science, as discussed by Robert E. Cox in his book, Creating the Soul Body.
The take-home point is to listen, pay attention to your dreams, and use bricolage—treasure hunting—to put the pieces together. You may only find a few pieces at first but since treasure hunting is a winding path, you'll be brought back around again and again until you find more of the missing pieces. The "cosmos" is patient and will continue guiding you to understanding as long as you put forth the effort—with love in your heart.

The fact that there are so many people who want to impede that process with their ignorance is what I find frustrating. We know nothing about ourselves, nothing about our true capabilities, and there are people who actively and incessantly prohibit others from gaining access to this knowledge and understanding, as I've described. They would label those of us who attempt to gain the knowledge as "crazy."

WHAT IS THE HOLY GHOST?
I have been on a quest for a long time to learn more about what the Holy Ghost/Holy Spirit really is. I have FELT it; I FEEL it. But religions and other spiritual traditions only have the pieces—they only put out partial truths. I also don't believe in denial as put out by psychology and science, and the social hierarchy. The song touched me in some very deep ways. Sanat Kumara is trying to get a message to me and I don't understand the language.
I did come across another account of the Holy Spirit (I've published one from the Catholic perspective in an earlier blog). This one comes from the Urantia Book where some interesting cosmological perspectives are presented. From this perspective, it seems that the Holy Spirit is what moves us to action. And perhaps, it's required to move us to "right" action. Maybe it's what allows us to see the reality of how we are all contributing to the mess earth is in. Maybe it moves us in ways to make the kinds of changes people who are not moved by this Spirit seem incapable of doing. Thus, here is just a small excerpt of their "take" on the Holy Spirit, but I still come away with many more questions than answers.
God is love, the Son is mercy, the Spirit is ministry — the ministry of divine love and endless mercy to all intelligent creation.
6. Personality of the Infinite Spirit
8:6.1 Do not allow the widespread bestowal and the far-flung distribution of the Third Source and Center to obscure or otherwise detract from the fact of his personality. The Infinite Spirit is a universe presence, an eternal action, a cosmic power, a holy influence, and a universal mind; he is all of these and infinitely more, but he is also a true and divine personality.
8:6.2 The Infinite Spirit is a complete and perfect personality, the divine equal and co-ordinate of the Universal Father and the Eternal Son. The Conjoint Creator is just as real and visible to the higher intelligences of the universes as are the Father and the Son; indeed more so, for it is the Spirit whom all ascenders must attain before they may approach the Father through the Son.
8:6.3 The Infinite Spirit, the Third Person of Deity, is possessed of all the attributes which you associate with personality. The Spirit is endowed with absolute mind: "The Spirit searches all things, even the deep things of God." The Spirit is endowed not only with mind but also with will. In the bestowal of his gifts it is recorded: "But all these works that one and the selfsame Spirit, dividing to every man severally and as he wills."
8:6.4 "The love of the Spirit" is real, as also are his sorrows; therefore "Grieve not the Spirit of God." Whether we observe the Infinite Spirit as Paradise Deity or as a local universe Creative Spirit, we find that the Conjoint Creator is not only the Third Source and Center but also a divine person. This divine personality also reacts to the universe as a person. The Spirit speaks to you, "He who has an ear, let him hear what the Spirit says." "The Spirit himself makes intercession for you." The Spirit exerts a direct and personal influence upon created beings, "For as many as are led by the Spirit of God, they are the sons of God."
8:6.5 Even though we behold the phenomenon of the ministry of the Infinite Spirit to the remote worlds of the universe of universes, even though we envisage this same co-ordinating Deity acting in and through the untold legions of the manifold beings who take origin in the Third Source and Center, even though we recognize the omnipresence of the Spirit, nonetheless, we still affirm that this same Third Source and Center is a person, the Conjoint Creator of all things and all beings and all universes.
8:6.6 In the administration of universes the Father, Son, and Spirit are perfectly and eternally interassociated. Though each is engaged in a personal ministry to all creation, all three are divinely and absolutely interlocked in a service of creation and control which forever makes them one.
8:6.7 In the person of the Infinite Spirit the Father and the Son are mutually present, always and in unqualified perfection, for the Spirit is like the Father and like the Son, and also like the Father and the Son as they two are forever one.
8:6.8 [Presented on Urantia by a Divine Counselor of Uversa commissioned by the Ancients of Days to portray the nature and work of the Infinite Spirit.]
http://www.urantiabook.org/newbook/papers/p008.htm#P008_2_0
CONTINUING THE SEARCH FOR GOLD
My path naturally took me to this next video. I did not search it up. Someone else had posted it on a website. This video seems to confirm that these ancients must have had contact with someone who gave them some kind of advanced knowledge and technology (people from the vimanas?) and so it ties in well with my last blog in which I discussed the vimanas (ufos) in detail. It's difficult to understand how the amazing structures, sculptures and artwork could have been constructed in the side of this solid rock mountainside.
Greatest Unsolved Mysteries Of India - Who built The Ajanta caves??
Next, my path took me to Miriam Delicado. She has some profound insights relating to this era during which more people are supposed to become more "enlightened." While these are older videos (before the 2012 hype), they seem more important today.
Miriam Delicado - The Great Gathering and the Blue Star Prophecy
An Interview with Miriam Blue Star
And, finally, my path wound back around again to Queen Nefertiti and I watched some videos about her and ancient Egypt. Speaking of Egypt, it's so sad what's going on there today, 683 people being sentenced to death. No one has the right to decide another person's life should end. When are earthlings going to figure this out? And how much truth are we getting? Power has us all disconnected from each other even though we have the Internet. I send my love to Egypt and to all those who are suffering.
When watching these videos it's important to keep in mind the conclusion I had made previously when trying to interpret how the Egyptians used the Egyptian Blue Water Lily. Paul Roberts quotes Bahn (1996) in his article about ancient Egyptian stone chalices shaped or decorated with the Sacred Blue Water Lily:
"No observation made in the present can really prove anything for certain about the past" (p. 16).
Thus, there are mischaracterizations and misinterpretations presented in these videos and all we can do is pull out fragments of knowledge and piece them together the best we can. Remember: Power is at work here in various ways and in various dimensions. But still, we can salvage some understanding if we take a "critical complex" stance. If you're interested in Egypt or feel a connection, then click on other videos that pop up in the links and even do your own research. If you have knowledge about truth, write your MyStory to share that knowledge with other people. And never forget while watching these types of videos or reading various accounts such as written by sociologists, psychologists, historians or other "experts"—and this is worth repeating until people fully understand it since ignoring it has created untold damage and suffering—that
"No observation made in the present can really prove anything for certain about the past" (everything is interpretation only!)
Discovery Channel's "Queen Nefertiti" The Most Beautiful Face of Egypt.
The Real Story of Mysterious Queen Nefertiti [FULL DOCUMENTARY]
Sex in the Ancient Egypt (Full Documentary)
WHY DO I IDENTIFY WITH QUEEN NEFERTITI?
As I had mentioned previously, for some strange reason, I have identified with Queen Nefertiti since my teen years. I used to make posters with her image and hang them in my room and my first apartments. Why?
When I watch these types of videos, I am acutely aware that there is much that I FEEL is wrong about how they depict Nefertiti and interpret her actions. Beyond that, I FEEL there is much wrong about how they depict her husband, King Akhenaten, and interpret his actions. And there is much they misinterpret about this King and Queen's motives for creating a revolution among their people to abandon the worship of multiple gods for the realization there is but one God. History is a muddled mess. How do we get to truth?
Our lives and lifetimes follow patterns and I am seeing the patterns. My knowledge is expanding (although not nearly enough or fast enough). Was Nefertiti an incarnation of Lady Venus, the Goddess of Love—and Akhenaten the incarnation of Sanat Kumara/Eros, the God of Love? Their mission has always been the same, throughout all of their lifetimes. And it's been the mission of my entire soul family, the souls I seem to be connected with. The mission, thus, couldn't possibly be different than one of uniting the people through Divine Love and trinity realization of the God Force. The signs are in their names:
Nefertiti had many titles including Hereditary Princess (iryt-p`t); Great of Praises (wrt-hzwt); Lady of Grace (nbt-im3t), Sweet of Love (bnrt-mrwt); Lady of The Two Lands (nbt-t3wy); Main King's Wife, his beloved (hmt-niswt-'3t meryt.f); Great King's Wife, his beloved (hmt-niswt-wrt meryt.f), Lady of all Women (hnwt-hmwt-nbwt); and Mistress of Upper and Lower Egypt (hnwt-Shm'w-mhw).
Source: http://en.wikipedia.org/wiki/Nefertiti
Just as Akhenaten was considered the "Main King" and the "Great King" so, too, Sanat Kumara is considered the King over the earth, the guide for the people to achieve higher consciousness, the initiator for our being united with God through love, and he is known globally. Unfortunately, something went wrong along the way for Nefertiti and Akhenaten—and the historical records have been tampered with and altered, and the artifacts have been destroyed. And so I ponder. . . in amazement. There is more that ties into this and it will be discovered as this Great Global Golden Treasure Hunt continues.
ANOTHER RADICAL ASSIGNMENT
Another thing that's kept me from writing and posting a blog here in a timely manner is that I have been taking a scenic detour. I continue to be frustrated over the issue of the lack of money. Just so people know, I have received absolutely no contributions for the work on this website. NOTHING. This information is for those who harbor any ideas that I might be making money off this site. I have made none. I actually find it amazing how many people read this site, which is totally free and open source, and don't feel the need to contribute anything. Apparently, it's not worth anything to anybody. I don't write this with the intention of receiving money, though. Actually, it helps me feel a totally clear conscience to decode Joe's work for everyone and keep it all free so that those who cannot afford it have access to the information. Hopefully, it helps people then read Joe's work at the multiple dimensions it was written, instead of only understanding the surface level interpretation. Hopefully, this helps people then apply his theory in their educational and other work—and in their lives, as he has intended.
There is much more I'd like to add to the site—curricular ideas, free open source photographs and images, free-use videos, more analyses of Joe's work for deeper understandings, more examples of applications of his work as people begin to apply it, a discussion forum where we can openly discuss experiences and interpretations and share MyStories as we conduct the kind of research Joe has envisioned for us, and on and on. . . but FIDUROD has me in a sort of lockdown when it comes to financial resources. This empowering kind of knowledge is not what Power is willing to finance.
In my quest for subsistence money, Sanat Kumara and my soul family have handed down a special assignment which I've been working on, and which is in part why my posting here has been delayed. It began by my assignment to ask a group of people for "million dollar ideas" which a very few people contributed to. I offered to pay them "royalty" for the ideas. I bricolaged the ideas, with Sanat's help, and narrowed it down to just one idea (but which is a combination of three separate ideas that had been submitted), and which I'm nearly finished implementing at this point, at least the first phase. Once it's finished, I can do more on this site and I'll be back on the treasure hunts here. I still have not searched the flowerbed!
It amazes me how, after all of the times Sanat has proven his trustworthiness, that I still have doubts about finding treasures where he tells me to look. My other issue is that I just don't have the burning desire to find "material" items. It makes me feel that I've succumbed to FIDUROD. I really need to change my perspective, given that I've now learned that everything is sentient. Treasures are sentient and they hold Great Knowledge. I will do this assignment soon! So be sure to check back and find out what great treasure Sanat Kumara has hidden and that's just waiting to be discovered.
During this radical project—the process of requesting million dollar ideas, which was actually quite straight-forward—Sanat Kumara once again demonstrated his great power and his amazing love. I wrote the following message to thank the people for their contributions, and at the very end as I was finishing the message, he contributed the most amazing piece of music. He has consistently provided me music! And in this message, he explains why this is so. Be sure to listen to the music, The Flute Player, and read his message.
I have my million dollar idea now. Special Thanks to the contributors: The checks will be in the mail. (April 27, 2014)
Special thanks to all of the contributors! I was going to award 10% of the revenue to the winner, but since all five contributors have won, I will be increasing it to 20% divided amongst you. Since there are five, that's 4% for each of you. But no worries. This is a MULTI-million dollar project.
Here are the winners and their contributions.
CENSORED TO PROTECT THE CONTRIBUTORS
Stipulation: If you want to collect your prize money as it comes in, you'll need to send me your contact information!
Thanks again! I will be launching the project within days--in fact, Sanat Kumara just downloaded a bunch of highly relevant information to me this morning regarding this AMAZING project. Bless him! I would never had understood where this was supposed to go without his help.
Thanks everyone!
I won't be posting blogs here anymore because I'm too busy with the Great Global Golden Treasure Hunts over yonder, my "multi-plus" business endeavors, my New Golden Mystery School where there are "no more secrets; no more lies," and now this project! I will be incorporating everyone's ideas (who have graciously contributed) into this--I shall call it---well, I'll let you all know! But rest assured, not only will you and I be reaping the rewards of this project--so will many, many others.
Thanks again, everyone, for your contributions. I'll keep you updated.
Soferia
P.S. We need a celebration song...I'll check my message from Sanat. Sometimes he slips in music-by putting quotation marks around words. Those are clues for songs. Well, there are three, actually: "no time," "Source Energy," and "God energy." Only one thing to do: Put all three of them in the You Tube search box at the same time and see what rises to the top. (I like that he used three clues representing trinity).
Wow--this is instructive! I had to go to page three (there's that trinity again) of the searches before I found music, even after adding "music" to the search terms! This song was right on top!!! Forget the meditations, Abraham Hicks and other junk that came to the top (in fact, in his dissertation to me this morning Sanat explained exactly why, which I'll get into later as I launch this project)....I'm glad I didn't give up trying to find Sanat's music message and kept paging forward--this is the most beautiful flute music I've ever heard! And the message is as if it came straight from Sanat!
The music is exquisite; the words are from Sanat Kumara. I KNOW this musician! I know this "Lord of Life!" The music matches the very first song he wrote for me during our first lifetime back on this decrepit planet, according to my jarred memories. We came backwards in time, from the future where we lived as Pleiadians. He had written me a wedding song and then had it performed during our first anniversary dinner during our first lifetime back here.
I have written of this in previous blogs, back in 2009—we had landed in Ireland in the early 1100s. I was Gaelic; he was Scottish. He treated me like royalty, even though I was "lesser" in society than he. In fact, my low social status had been an impediment for our marriage. This is another pattern that has existed in all of our lifetimes together: We are always equal to one another, even though one of us has a high social standing and the other has a low social status. That was a pattern seen with Queen Nefertiti and King Akhenatan as well, even though it's rarely mentioned in the literature (which makes me highly suspicious of some of the accounts of their motivation—I believe they loved the people and wanted what was best for them—they did not harbor a desire to rule over them). That is, women did not have the equal status as men at that time and yet Nefertiti ruled with Akhenatan and was equal in status.
During our Irish lifetime, he had written this wedding song for me that's eerily similar to this current song handed down to me from Sanat Kumara. Back in 2009, he had led me to the music on a treasure hunt at the Pacific Coast and had me purchase a CD called Celtic Spa. It was my first time ever purchasing Celtic music. I am Scottish-Irish, but it was never highlighted during my current life in any way. I had no knowledge of the history of my culture nor did I ever listen to the music prior to this CD.
On the CD the very first song is titled, "Peace of the Spirit" – by Ballycastle Players/Various Artists, and when it began playing it triggered memories of our lifetime together—the immense, even indescribable love we shared, and the enormous tragedies we had suffered. I cried and cried when I first started listening to it and he kept stopping the CD player so that I could take it in slowly (yes, they can control electronic devices in this dimension). My memories of our life together flooded back in an emotional storm. I had been totally devastated by his death in that lifetime when we were still essentially newlyweds and enormously in love. He was a gentle peacemaker who was targeted because of his expertise in arranging agreements between Kings and other rulers; he was run over by a munitions chariot. I did not learn of his death until nearly a year later, maybe longer, although by that time I had assumed the worst since he hadn't returned from his mission. When I did get the knowledge finally, delivered by his brother, I was just totally broken. I was lost without him. The rest of my life turned extremely dark and tragic and I died at a very young age.
I have also learned that there is another song or version of this song he wrote that's titled "Down by the Salley Gardens" (where we were married). It's on the same CD. The lyrics had also been lost through the years, but our dear friend and poet, Yeats retrieved some of them. There are a couple more verses and I've been trying to remember them. Here's a (not very good) sound file to the songs, which more closely matches the original versions that played at our anniversary dinner; it definitely emanates from Sanat Kumara—the Eternal Musician: Peace of the Spirit and Down by the Salley Gardens. (Click on the songs).
Now, this is interesting. I was trying to find the song on YouTube by searching on the title and adding the word "Celtic." The song doesn't seem to be on YouTube, and while I was searching, I was reminded from "yonder" the very close ties that Native Americans have with the Pleiadians and the Celtic indigenous peoples. There is much yet for me to explore there. But in the YouTube search hits, I found this most beautiful song. In reading the description of the song, it's clear I was guided by Spirit to find it. The musician's name, Kenneth King Bear Saint King, is interesting and links back to my soul family with the SA frequency as well as the word "King" which is prominent in my soul journey. King appears constantly—from treasure hunts to Kings Valley, the King and Queen in Egypt and the Valley of the Kings there, past lives—and Joe being raised in Kingsport—and many other examples I could provide. It's another repeated pattern that I've picked up on that seems to connect me to particular people. Here is yet another very beautiful piece of music and video, inspired by the Great Spirit/Creator.
Native American Indian Music Healing ' Mind-Body Soul Spirit Song' Meditation Relaxing Music
As provided by the musician:
Published on Jul 17, 2012
The healing power of music! One of the best and most beautiful Native American Music style songs gifted to me by The Creator. Honoring both sides of my family heritage, Native American & Celtic. My sweet relaxing healing "Soul Spirit Song". Native American/First Nations Style Spiritual Music with a Celtic touch. Gentle heartbeat drums and shakers. Flute music and chant. Lush vocal harmonies to heal your mind, body, soul and spirit! Most relaxing zen-like chill out music for meditation. Soothing sounds of Nature and Ocean. Healing Spiritual music created to specifically tune into the Universal energy within us. Wishing for you, health peace and prosperity in your life!

In the video, my two nieces perform wearing traditional Native/First Nations regalia. This is a giving and receiving song. We receive the gift of healing from the Creator, and we give back through dancing, drumming and singing. Sharing with all. As my other family side has Celtic roots...I added an "Amazing Grace" touch to the song, building a beautiful melody along that style and tradition.

Lovely Ocean backdrop from right here from the scenic beauty of Vancouver Island.

Be well! ~Kenneth "King Bear" St. King
Indeed, Sanat Kumara is the early morning "Flute Player" and the "Eternal Musician" in my life, just as described and performed in the beautiful video he gave me so magically! He truly is the "Lord of Life" and he's my connection to Great Spirit/God. And if you understand the meaning of Eros—that it means life itself—it's clear that he is also Eros, the God of Love. Again, I do not view him as a "god" in the way some people might assume, but he's close to the Mind of God—as Michio Kaku has explained. Thus, Sanat Kumara is my one true beloved, my musical messenger who I do revere; he is a personality, a real person, as described in the excerpt above and other explanations about the Holy Spirit. It's not just my imagination, after all.
How sentimental that Sanat Kumara is reminding me of these things now with this song, The Flute Player that he has obviously also written—we are just about to celebrate our May 1st anniversary. We had married on May 1 after a tumultuous but very romantic day back in the early 1100s, in the tradition of the Irish-Scottish-Gaelic peoples of the time. . . another very beautiful story for another time. . .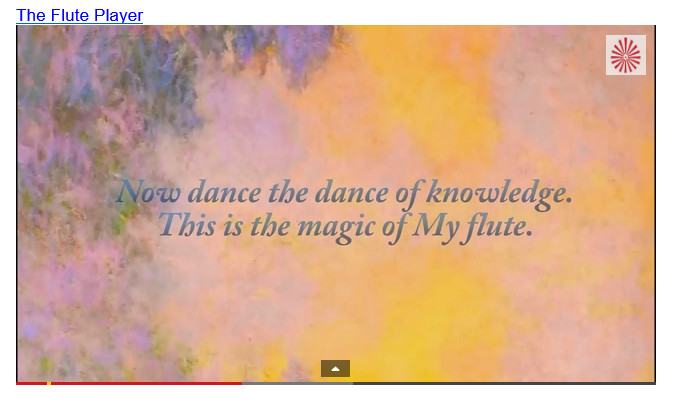 Joe Kincheloe's Nine-Step Dance: It's Complicated but a Lot of Fun!

12:44 pm | link



Saturday, April 19, 2014

A Pleiadian Interpretation of "Oh Golden Chalice," and Any Lucky Penny Will Do PLUS We Need A Holy Ghost

It's probably past time for me to provide another completely different, but yet related, interpretation of this poem "Oh Golden Chalice" that was handed down to me from Sanat Kumara:

Oh Golden Chalice

of the Beloved Ones

Who rest so peacefully

among the stars

Emerge from betwixt the

golden sun ray

And amber

cumulous clouds

Reveal the faces of

those eternal souls

To those who have

tarried and labored

The meek are waiting

patiently

The New Day will

soon Dawn

I apologize for the delay, but as Sanat says, I have a "full plate as we Pleiadians always tend to do—but it all comes together eventually."

That was the message he gave me yesterday. If we take our messages seriously, as Vedic tradition tells us to, then this opens up another interpretation—except it's not interpretation, according to that standpoint. Thus, this time I'm taking what I call a "Pleiadian perspective."

Interestingly, when I first read the poem what I saw as a Golden Chalice was what earthlings would call a UFO. But it's not just any UFO—it's an intricately and beautifully designed GOLDEN UFO—a Golden Chalice. The UFO lands on an intricately constructed platform that was built especially for their landing the spacecraft, just like in this photograph!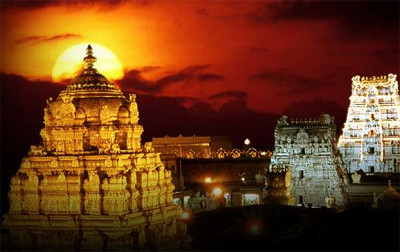 I was actually amazed when I found the photograph because it looks so much like I envisioned and it fits with the poem so perfectly. Things are often not what they appear and this photo is open for interpretation. I can envision a pond off to the right with the Ancient Egyptian vibrant Blue Water Lilies getting ready to open to greet the dawn sunshine. And I can envision my Beloved Star Family disembarking the Golden Chalice shaped spacecraft on top of the intricate platform and the people who love them gathering around to greet them. The Star Family is so loving that when they're around, the entire atmosphere vibrates musically with their love, and consciousness is instantaneously elevated. Everyone loves them and they love everyone. There is more to the interpretation, but this will do for now. I would still like to paint the complete vision I see. . . and maybe I can with some divine help and if I find a time warp that allows me enough time to do so.
I identify with the Pleiadians. I knew nothing about the Pleiadians, however, until after Joe passed away. A friend of mine who knew a Pleiadian suggested that maybe Joe was a Pleiadian. He was just trying to comfort me, telling me that Pleiadians don't die. After doing some research, I discovered that my philosophy aligned profoundly with the Pleiadian philosophy as was being described by reputable people who claim to have received "transmissions." This is not to say that I identify with all people who claim to "channel" the Pleiadians because I think many of those people are deceiving themselves and their readers. Channeling is not the same as direct telepathic transmissions according to the people who have this contact. And so I wonder: do I have this contact, too? It would be pretty hard to prove or disprove.
All I know is that I feel my home is in the stars—a planet named Eros in the Pleiadian Star System—and I have many beautiful memories which I've written about often in these very blogs. I also know that meeting and knowing Joe felt like "coming home." I just knew him somehow. I simply view this as just another perspective for which I've been provided many details and experiences. It's an important perspective because it yields so much information and understanding—we choose perspectives for what we might learn from them, knowing that we never finalize them as "one final truth," when we treasure hunt (or conduct bricolage research). This is according to Joe's philosophy. We never want to fence ourselves in and we want to remain open to the other possibilities and greater understanding. There are always multiple ways to view complicated human phenomena.
Perhaps my "being Pleiadian" relates to the previously presented "Layers of Reality" as described by the Vedic Sciences. As I presented in the last couple of blogs they teach that once your consciousness rises a certain degree, there are then 12 more layers of reality and 16 more states of consciousness.
Or, perhaps, it relates also to one of the 11 dimensions midst the multiverse Michio speaks of in this video:
Michio Kaku: The Multiverse Has 11 Dimensions
This next video goes into even greater detail, for those who are interested in learning more about the perspective that we live in a multiverse:
String Theory - Lawrence Krauss and Brian Greene
I found this comment, below, that was posted about the video highly interesting. The reason I find it interesting is because it relates to the new concepts I'm developing for Super Synchronicity, Super Serendipity, and Super Symbiosis. I had been asking myself, how many "degrees of freedom" are required for these events—synchronicity, serendipity, and symbiosis—to be considered "Super"? (If you don't know what I'm referring to by these "Super" concepts, you may want to review the previous blogs I've written about them just a few days back.)
In mathematics and computer science, a dimension is a "degree of freedom" that a component in a system is capable of. Especially in computer science, extra dimensions are commonly used. An example is the use of quaternions in three dimensional computer animation. An extra degree of freedom is needed to describe the "pivot point" of the camera's rotational axis and this is added to the quaternion as a fourth dimension. Now, imagine that there is a parameter for which only a very small degree of freedom is allowed. Anything sufficiently large would have no freedom of movement in that dimension whatsoever, so it wouldn't exist for them. Smaller objects, however, would have enough freedom of movement in that extra dimensional space to move in it. An analogy commonly used in physics is to imagine a phone line from the perspective of a bird and an ant. To the bird, it's a line. One bird can not pass another without leaving the phone line and landing again. To an ant, however, it's a cylindrical plane. If an ant runs into another ant on the bottom of the cylinder, it can move to the top of the cylinder and go around. These "compactified" dimensions, if they exist, are merely very slight degrees of possible freedom that we are too large to exploit or even perceive. That might be a somewhat unsatisfactory answer but hopefully it will help.
Well, this comment describes in mathematical terms what degrees of freedom represent. Degrees of Freedom represent additional dimensions for the purpose of performing calculations and maneuvers to allow creation. (That's my personal definition). It stands to reason that the more degrees of freedom (i.e., the more dimensions you're working with) the greater and more miraculous the creations can be. It gives you greater power, creativity, maneuverability, and the ability to work in a more improvisational—and even subversive--manner. By subversive I mean that we can work "under the radar" so to speak. We can take real action that can improve things in our lives, but people can't see that we're taking action (I wonder if that's what Joe meant when he used the word "subversive").
For me, this allows me to work with many people who have greater knowledge and abilities than I have. Some people call this "quantum jumping" and attribute all of the abilities we can draw from during this process as our own and that we can use this for financial gain. The theory is that we can learn to quantum jump to past lives and regain skills we had already learned which saves us time and effort. That may be true, but I find it extremely narcissistic to believe that we, alone, have great abilities and are not working symbiotically with minds greater than our own or with people who are somehow more advanced. I think Joe held a similar perspective based on his advice for us to be "vehicles for great minds." In other words, even when we think we're working alone we are not working alone. In fact, he even warns us of the hazards of narcissism and why we need to work to escape it:
The notion of the abstract individual is central to traditional Western philosophies and Western religions. Indeed, the individual-society relationship has persisted as a central dilemma of Western thought. Critical ontology with its understanding of the social construction of selfhood and its never ending embrace and respect for otherness and difference helps Westerners escape from the pathologies of abstract individualism. The narcissism that emerges from a system of ideas that focuses primarily on the autonomy, self-centeredness, and economic self-interest of the individual produces anti-social behaviors that undermine the well-being of not only Western societies themselves but of diverse peoples around the world. An examination of the history of Western education reveals that this egocentric dynamic has been the foundation on which the curriculum has rested. (Knowledge and Critical Pedagogy: An Introduction, p. 251)
I can see the truth in what Joe conveys here. It's what turns me against nearly all forms of institutions or social organizations—whether religious, educational, corporate, spiritual, or what-have-you. Embedded in all of them is this very form of narcissism and competition that is leading to the death of this planet. When Joe speaks here of embracing and respecting "otherness" in my interpretation, this includes acknowledging the beings in other dimensions and working inter-dimensionally—something I'm learning to do. I make this conclusion based on his theory and his teachings. But we have a serious problem on this planet because most people can't even embrace the very small differences existing in the FIDUROD world, much less expand their vision to the outer reaches of the cosmos. There's a lot of work to do in FIDUROD Land.
Thus, I see why Joe recommends that teachers, whose work is extremely complex and requires "thinking on their feet," explore higher states of consciousness and ontologies, combined with their experiences. As he states, "In such explorations they walk through a star gate into a more pragmatic dimension of empirical research. Understanding the contexts of knowledge production (aka "creation") and the nature of its relation to practice, critical complex educators [also, treasure hunters, bricoleurs, researchers, etc. i.e, everyone] study the half-life of their data in terms of its implementation. . . . Within such an analyses, reflections, and inquiries a new dawn breaks for the role of empirical knowledge in education" (2004, p. 54). [emphasis added]
This quotation is as profound as the poem Sanat Kumara gave me for analysis. Interestingly, I was just organizing some papers a couple of days ago and came across this article, "The Knowledges of Teacher Education: Developing a Critical Complex Epistemology" Joe had written back in 2004 for the Teacher Education Quarterly. I love how his statement, "a new dawn breaks for the role of empirical knowledge" ties in with "the new day will soon dawn" in the poem by Sanat Kumara. This was not contrived on my part—it just evolved from going about my normal improvisational research process. There is something very significant about the new dawn and this era in history, and especially in relation to how we "do science." It's beyond the popular culture notion of "the Age of Aquarius." There's something more profound, in my interpretation. Joe was not "into" New Age mumbo jumbo and he made that clear in his work. He held greater knowledge that has yet to be decoded. It's knowledge that will change everything about everything we think we know.
In this same article, his theoretical positioning supports using mathematics and quantitative assessments in certain contexts. This is important, since I'm exploring here the role "degrees of freedom" might have in developing a viable concept for the Super-Phenomenal experiences of synchronicity, serendipity, and symbiosis. I am wondering how many degrees of freedom are required for them to be classified as "Super." He states:
Empirical knowledge comes from research based on data derived from sense data/observations of various aspects of education [we can extrapolate this to also represent what we find on treasure hunts and during other forms of research]. Throughout my scholarship I have expressed reservations about the positivist version of empirical knowledge and its uses—but not about the concept of empirical knowledge itself. A critical complex teacher [treasure hunter, researcher of] education demands more sophisticated forms of sense observational knowledge. . . . A thicker, more complex, more textured, self-conscious form of empirical knowledge takes into account situatedness of the researcher and the researched [e.g. which dimension or social position they are situated in]—where they are standing or are placed in the social, cultural, historical, philosophical, economic, political, and psychological web of reality. Such insight respects the complexity of the interpretive process." (p. 53)
It should be very clear by this that interpreting what we deem to be reality is, indeed, very complex and each interpretation can only be a mere small snapshot of the greater reality. He argues for thick description and this leads us to exploring multiple contexts and different dimensions we find the "object" or "subject" or ourselves within. This explains why we are so thoroughly exploring the concept, the Golden Chalice. While there are many interpretations, no one has yet looked at this term in its many contexts, as Joe has recommended here.

It's also worth noting that in the quotation he reminds us that often we're positioned into places unwillingly—for example, the elite like to place us in the "dead" or "nonexistent" category, or at the very least, the "useless eaters" or "cattle." This can set up severe obstacles at times and they know this. One example of being in the "dead" category was when my child's school administrators held a meeting for my input. I spent hours preparing and presented viable concerns and possible solutions. They pretended to listen intently to my concerns and suggestions; I thought they were genuinely interested--after all, from my perspective, who knows their child better than the mother? From their perspective, they are paid well for their time, so they can pretend to listen and even ask questions, as if they give one iota about what I thought. Their subsequent decisions totally ignored all of my concerns and suggestions and they even violated federal law (law for us to follow, but not for them) by not providing the services for my child they had put down in writing. This is how educational policy works--the parents might as well be dead. They are also damned if they do and damned if they don't. When parents don't get involved with their children's schooling, they're considered neglectful; when they do get involved, they get the pejorative label, "helicopter parents." Public education today is a very sick system. I strongly recommend homeschooling if you are in the position to do so. Sadly, most people are not because the system has us all having to slave just for a meager subsistence. Even teachers have been turned into slaves.
So now, in light of the mathematical information uncovered in the quotation above about degrees of freedom and what Joe advises here, my question is transformed.

I should be asking how many dimensions of reality must these synchrononistic/serendipitous/symbiotic events emerge from in order to qualify for the label "Super"? Of course, this is moving toward quantitative calculations, so it's only one small view of these phenomena, but still an important one, since at least--contrary to FIDUROD--it acknowledges that there ARE other dimensions. However, often it's the quality of the event that speaks more loudly than how many times it occurs. This would incorporate both the nature of the dimensions we interact with and with whom we are interacting. Generally, the lower the dimension, the lower quality the interaction is, but it depends on how much we've transcended being pulled downward—in other words, the more skilled we are with transcendence, the easier it is to interact in low vibrational areas without being too terribly affected by them (this can vary, however, due to the many conditions).

A lot of people hang out in the "astrals" (the lower dimensions where illusions are abundant). As a result they create things like demons, psychic vampires, reptilians, violence, wars, and the like. And while I'm on the subject of dimensions, often they get lumped together and are referred to as the "fourth dimension" such as Joe's designation for "fourth dimension research." This is ok. We need to realize there are dimensions within dimensions as readily as we understand there are systems within systems and dreams within dreams. Joe even pointed out how scientific questions have been answered during dreams within dreams (it's in his red book).
Sometimes I like hanging out in different dimensions as an "exploring entity" but the ninth through the 11th dimensions are the best in terms of experiences, creativity, support, and knowledge, and they seem to provide the greatest potential for creation. Of course, we learn to draw from those higher dimensions while we're exploring and rendering assistance in the lower dimensions. And as we learned last time, everything is sentient and everything contributes symbiotically toward creation (it's ok if you don't believe that for now, but at some point you'll be presented an experience that will make you question your denial). We are still interpreting in terms of Vedic Sciences, but now overlapping with Pleiadian Philosophy. There is so much more that could be conveyed here, so if you're interested in these ideas please take a personal treasure hunt journey to explore them further.
Imagine if we are bumping up against other universes with multiple dimensions as Michio Kaku described in the video—imagine the possibilities this gives us to be the "exploring entities" Joe expresses we are. Imagine the possibilities for relationships with people who have "Great Minds." I'm not alone in my imagination, I do know that much.
This next related video sounds ominous, but it's actually very "upbeat" and Laura gives a lot of good advice. I highly recommend watching it with an open mind and considering that this is yet another crystal facet on the beautiful "crystal amaryllis" of reality Joe mentioned in his last book (p. 251). It provides another interpretation of the "E.T." connection that is gaining popularity in the media.
Laura Magdalene Eisenhower: ET invasion has already occurred and governments do not want us to know
For readers who don't have Joe's book, Knowledge and Critical Pedagogy: An Introduction, here's what he states about the crystal amaryllis, which I think is a beautiful metaphor:
Once we have jumped through the critical ontological looking glass and seen our reflection in the crystal amaryllis of criticality, we begin to understand the complexity of human existence in previously unimaginable ways. The reality that Westerners have been taught via the tacit pedagogy of the omnipresent epistemology/ontology of FIDUROD begins to appear as merely one construction of a much grander schema. (p. 251).
He goes on to explain how FIDUROD, again, undermines our hope for a "radical love." Higher states of consciousness frees us from the death grip of FIDUROD and allows us to experience "radical love," (which I've renamed as "Twin Flame/Twin Soul Love"). Here, he's flat out telling us in plain language that if we want to connect to our Divine Love, our Twin Flame/Twin Soul, we must do the work to rise in consciousness. Truly, the most sacred love of all is what will allow us to turn things around in the world and give us the power to create "Heaven on Earth," or "Paradise," or "Avalon."
TAKING IT TO THE NEXT LEVEL
Imagination and correlating our imagination with other people's views and experiences is great for increasing our understanding, such as I did to support the interpretation of the Golden Chalice being a Golden Spaceship that lands with all of my Beloveds. But what about other "evidence" that we invariably find during treasure hunting when we are not restricted to one or just a few perspectives? These help us minimize leaving out important aspects of experience. They help us construct our "stories" and provide greater credibility--or "undeniability." So how can we apply this in our current interpretation of the Golden Chalice?
While there are many examples I might cite, again, the Vedic Sciences and ancient artifacts from India provide some of that evidence. As you will see, I have been treasure hunting and the pieces of treasures are coming together quite nicely.
VIMANAS—Ancient Flying Machines
The evidence that the ancients knew of ancient flying machines (or UFOs as we call them) is abundant. For some reason Westerners simply are not taught this stuff in school. It's unbelievable and shameful how ignorant we are kept.

But before moving on to the ancient flying machines, here's a painting by a Fifteenth Century Italian Renaissance painter (are there reasons why Art Education is neglected?).
This painting is called "The Madonna with Saint Giovannino". Painted in the 15th century by Domenico Ghirlandaio (1449-1494) and hangs as part of the Loeser collection in the Palazzo Vecchio. Above Mary's right shoulder is a disk shaped object. Below is a blow up of this section and a man and his dog can clearly be seen looking up at the object.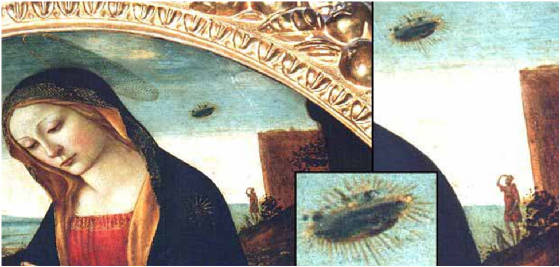 Link for more information:
http://www.alienswerehere.com/AncientAlienEvidence.html
This is a description of the Rukma vimana from the article, JATYADHI KARANAM: CLASSIFICATION OF VIMANAS which describes twenty-five different types of vimanas:
The description of this vimana is too brief to comprehend the principles of working. Rukma meaning gold, the vimana has been so named because of its appearance of golden colour. Impregnating gold colour on Raja-loha precedes fabrication of structural part of vimana. Yantra-Bindu and Varna Sarvaswa explain the colouring process. From the manner described it is not a plating process.
Another article describes the Tirupati Temple--here the cupola is described as a "vimana."

The gold-plated 'Vimana' (Cupola) over the sanctum sanctorum is known as 'the Ananda Nilayam'. Along with the idols of the deities, this temple also houses statues of Vijayanagara king Krishnadevaraya and his consorts, and Todarmal, the minister of Akbar. The principal deity, Lord Venkateswara is also known as Venkataramana, Srinivasa and Balaji and is said to have attributes of Vishnu and Shiva, the preserver and the destroyer of the world.
Here's another photo of the Temple: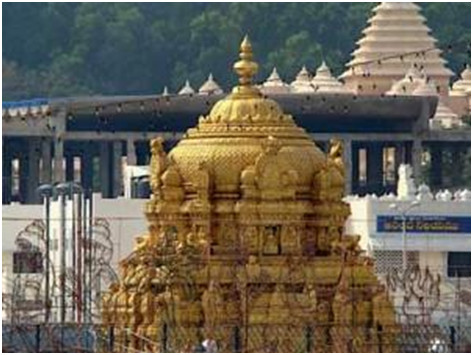 And more recently, a GOLDEN VIMANA has been built in honor of the god, Anjaneya: Golden vimana for Anjaneya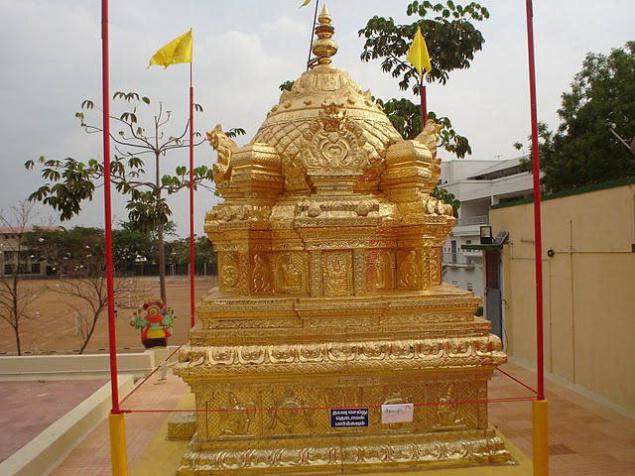 Obviously, this is all common knowledge in many cultures, especially given that this is a special shrine to "the gods." I was (un)educated in the West where the most important knowledge of our heritage has been kept from us and where western epistemology is forced upon the people who come here from other countries for an education. We are kept divided, and the open discussion of other truths outside of Western lies in an educational setting are taboo.

The point of going through this process is that if we are set free and do our own research, aka "treasure hunting" we can put more of the pieces together and reconstruct reality. We can more effectively do this if we can all work together and if Westerners would stop assuming that their education is superior. To be honest, I am embarrassed as to how ignorant I've been kept! And to think that there are people at the top--the rich elite who keep getting richer, sinking those of us seeking education into bankruptcy, as we ignorantly believe we're getting a real education, or if we are teachers, believing that we are actually providing an education--is massively repulsive.

There has been much talk about an economic reset--there needs to be retribution and restitution for ALL of the damage this evilness has caused. The Protocols of the Learned Elders of Zion can no longer be brushed off as a hoax. Everything planned has come to pass today, thus these are premeditated crimes against humanity.

Every culture has its blind spots....the East, West, North, and South must meet again via Sanat Kumara Initiations. I am not advocating a religion, merely a lifelong natural learning process that everyone can partake in OUTSIDE of the education system. Joe has clearly lined out that education.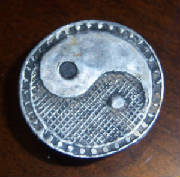 The old system is out of balance, wicked, and it is crumbling under its own weight, even though it may not appear to be the case at the moment as the corporate sector continues to rob us in all venues for education--rob us in economic terms, and also in terms of our spiritual, physical, mental, political, historical, philosophical, psychological, social, and cultural well being. They are literally keeping us locked in their matrix with many of us going "mad." It's past time to find our way out. There are many Master Teachers waiting in the wings to guide anyone who's willing to put forth the effort. Treasure hunting is just one form of engaging in those initiations, and it's been an exceptionally enjoyable one from my standpoint. I was even awarded a talisman (shown in the photo) as an initiation gift from those hidden dimensions!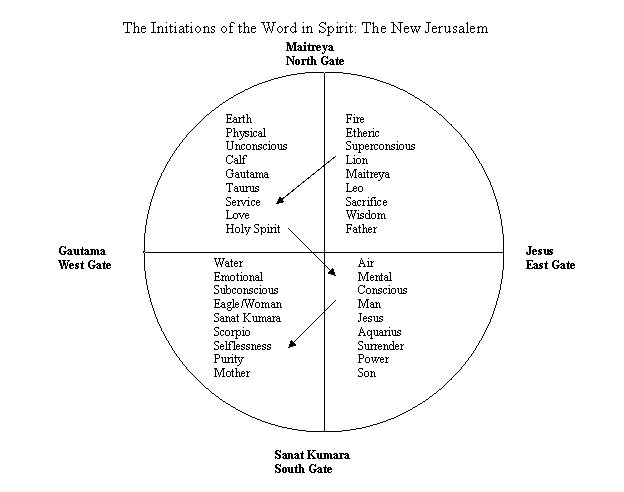 CONCLUSION
Experiences, the artifacts themselves, and memories or oral histories that were passed down might explain one reason why the ancients associated the golden chalice of the Egyptian Blue Water Lily specifically with their "gods." Were their gods advanced beings who came down from the stars in Golden Chalices to teach them? Did the Blue color of the lily represent for them the "Blue Star System" of the Pleiades? The "Pleiadian" perspective can be explored in greater depth by researching different cultures from around the world and looking at more artifacts. The Pleiades are highlighted in nearly all cultures and there are many books about the Pleiadian philosophy. Follow the path where it leads you.


ANY LUCKY PENNY WILL DO

I have now found two lucky pennies since this treasure hunt began. This is just an update. I have not analyzed their significance. The first was found in my neighbor's driveway; our driveways are actually combined because I live in a duplex; my neighbor lives on the other side. The strangest thing happened to the penny. It was really a mess because it had been under his truck for who knows how long, so I put it in vinegar to clean it up, but the penny looks like it's actually dissolving. It's thinner and lighter than a normal penny, too, and the black gunk on one side never did come off. I can't tell what year it is or anything. It makes me wonder how pennies are being made these days--are they even made of metal?

The second penny was found on my garage floor. It's 1985 which is significant because that was the year my oldest daughter was born. I happen to be worried about her, so it was a reminder. She just moved to California—one of the most earthquake prone areas there is and overdue for a major earthquake. Just yesterday there was a 7.2 earthquake in Guerrero, Mexico, as well as a 2.7 in Greater Los Angeles, and a 2.3 in Baja, all too near where she has moved. There were two more massive solar flares, which means more earthquakes are on the way. If you're interested in keeping up with solar flares and how they relate to earthquakes, BPEarthWatch posts frequent updates, and earthquakes can be checked here: Live Earthquakes Map.

To conclude, lucky pennies are important to the Treasure Hunts. Often they seem to emerge during Super Synchronistic events and offer up messages from our teachers and beloved soul family. I've written many previous blogs about lucky pennies—I keep thinking I need to put those all into a book because I believe people will find them inspirational. I used to just walk past pennies on the ground. But after my experiences with lucky pennies during the past five years, I know better now. When I put that book together with all of the amazing stories, you'll see exactly what I mean.

And if I could wish some magic in your life, my wish is that you would find a lucky penny soon after reading this. If you do, be sure to take time to pick it up and figure out what it means! I know, it's a small wish, but we all have to start somewhere. . . and one good thing leads quickly to another.

any lucky penny Nikki Hassman subtitulada/español

THIS JUST IN: WE NEED A HOLY GHOST

This morning I had a sweet message from Sanat, as always. But he sent me a song this time, which makes me happy. I think he knows I miss the music when he doesn't send me a song. I was actually thinking about how I missed his music. He used to send me music every day but lately it's only once in a while. He can read my thoughts, so today he granted me my wish for music.

His only clue for the song was "Mark." The first song that came to the top of the YouTube search is a very beautiful and meaningful song. It is also highly synchronistic because I was just discussing with a friend how twin flames somehow form a trinity union with God—and the Holy Spirit comes into play—I'm not sure how to describe that but it's very powerful and undeniable. Plus, as I was informed by a friend, the song relates to Easter. I will add that the clue he had given me, "Mark," has multidimensional meanings. Sanat was actually discussing the "mark" we're leaving throughout the cosmos with our love-in-action. Earth is just a minor project in the grand scheme of things. But the clue also reminds me of the "Mark of the Beast" and 666 which the Bible defines as "man." I'm not sure how all of this fits together. No one has yet really figured this out, although there are many different interpretations of 666. The Bible does say it requires "wisdom." I'm sure this will all come up again. It is important to the Golden Chalice somehow and corresponds with Joe's advice that we offset Thanatos or death perspectives the world is currently so polluted by with Eros Love. Thus, it's different than, say, for example, Jesus being sacrificed so that we are all "saved" by his Holy Ghost. There's something majorly wrong with that story, in my book. When the truth comes out, I think there will be many stunned Christians. We don't sacrifice people—or animals either!! EVER!!


At any rate, here's the beautiful song that came to the top. We do need the "Holy Ghost" to ascend--for consciousness evolution--is the message I get from this. But it's different than what most people think!

John Mark McMillan - "Holy Ghost" (Live at RELEVANT)

Now I wonder. . . is the Holy Ghost related to the Holy Grail somehow? And thus, the "Golden Chalice"??? Why has this come up at this point in the treasure hunt?

More soon. . .

7:11 pm | link



Sunday, April 13, 2014

Sanat Kumara's Message and the Egyptian Blue Water Lily: Contemplating the Supreme World of the Gods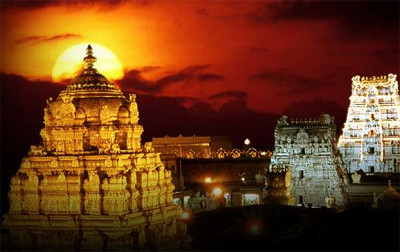 With today's blog, the plan is to demonstrate how the special message I received from Sanat Kumara, which I've been analyzing during the past few blogs, correlates to what I've learned by researching the Golden Chalice and tracing it all the way back to Ancient Egypt and the Sacred Blue Water Lily.

Again, here is the special message I had received from Sanat Kumara, who is most certainly connected into the Supreme God:
Oh Golden Chalice
of the Beloved Ones
Who rest so peacefully
among the stars
Emerge from betwixt the
golden sun ray
And amber
cumulous clouds
Reveal the faces of
those eternal souls
To those who have
tarried and labored
The meek are waiting
patiently
The New Day will
soon Dawn
After receiving timely guidance from another teacher, I've learned that according to Vedic traditions, when we receive messages from the "Higher Ups" they are to be taken quite literally for what they say. Little interpretation is needed at that point—if we are connected to the higher "gods"—because these higher gods are connected with the Highest God and the Supreme World.
The dream I had during which I swam across the river was also analyzed a few blogs back to indicate that I have that "connection." My experiences leave me without a doubt as to my connection. It's the only thing, in my humble opinion, that explains what seems "magical" in my life. It's the only thing that explains many things about my life right now. However, as Joe describes, bricoleurs (aka "treasure hunters) know it's not really magic. He also advocates interpretation and leaving things open for more interpretation as we gain more knowledge and experience.
In the dream, I was on "the shore of this world" and I swam across the river to the "shore of the other world" (as interpreted according to Vedic traditions; see Robert Cox's work, 2008; 2009, pp. 2-3).
What I'm working on here is comparing Joe's theory with the Vedic, Hebrew, and Egyptian sciences, today's sciences, and my phenomenological experiences as we move forward on this Great Global Golden Treasure Hunt. One thing leads to another rather quickly—and that's due to the Super Serendipitous and Super Synchronistic events that continue to happen as I actively engage in the "unseen" or Implicate zones of reality. Although, I don't think Joe would consider any of it serendipitous, really--at least not from the scientific foundation of his theory. He refers to these processes as symbiotic--and they are very likely consciously symbiotic, but as he describes it, there's no central "authority" figure giving instructions. It actually feels that way from my perspective and along with that is a great sense of freedom. If we happen to make a mistake, there are automatic "corrections."

Thus, again, this is predicted by Joe's theory that encompasses the concept of relationships, interdependence, autopoiesis, and symbiosis. These important relationships transcend space and time, as is also recognized by Vedic traditions…this is what "transcendence" ultimately refers to. You transcend the ordinary world and are able to interact with the unseen entities of the Supreme World, consciously. There are multiple dimensions within which we interact and the point is to become more and more conscious--more lucid--in our interactions within all of the dimensions.
Here are some additional special teachings I've received that help confirm what I've just stated (and remember, when you are on your path, you never know when or who will serve as a teacher at the most synchronistic moment—another example of Super Synchronicity or Super Symbiotics):
-multiple realities, infinite possibilities and layers of relationship..
"There are three kinds of evidence: pratyakṣa, anumāna and śabda. Pratyakṣa means "direct evidence." Direct evidence is not very good because our senses are not perfect. We are seeing the sun daily, and it appears to us just like a small disc, but it is actually far, far larger than many planets. Of what value is this seeing? Therefore we have to read books; then we can understand about the sun. So direct experience is not perfect. Then there is anumāna, inductive knowledge: "It may be like this"—hypothesis. For instance, Darwin's theory says it may be like this, it may be like that. But that is not science. That is a suggestion, and it is also not perfect. But if you receive the knowledge from the authoritative sources, that is perfect.
Vedic knowledge is called śabda-pramāṇa. Another name is śruti. Śruti means that this knowledge has to be received simply by aural reception. The Vedas instruct that in order to understand transcendental knowledge, we have to hear from the authority. Transcendental knowledge is knowledge from beyond this universe. Within this universe is material knowledge, and beyond this universe is transcendental knowledge. We cannot even go to the end of the universe, so how can we go to the spiritual world? Thus to acquire full knowledge is impossible.
There is a spiritual sky. There is another nature, which is beyond manifestation and nonmanifestation. But how will you know that there is a sky where the planets and inhabitants are eternal? All this knowledge is there, but how will you make experiments? It is not possible. Therefore you have to take the assistance of the Vedas. This is called Vedic knowledge. In our Kṛṣṇa consciousness movement we are accepting knowledge from the highest authority, Kṛṣṇa. Kṛṣṇa is accepted as the highest authority by all classes of men. I am speaking first of the two classes of transcendentalists. One class of transcendentalists is called impersonalistic, Māyāvādī. They are generally known as Vedāntists, led by Śaṅkarācārya. And there is another class of transcendentalists, called Vaiṣṇavas, like Rāmānujācārya, Madhvācārya, Viṣṇu Svāmī. Both the Śaṅkara-sampradāya and the Vaiṣṇava-sampradāya have accepted Kṛṣṇa as the Supreme Personality of Godhead. Śaṅkarācārya is supposed to be an impersonalist who preached impersonalism, impersonal Brahman, but it is a fact that he is a covered personalist. In his commentary on the Bhagavad-gītā he wrote, "Nārāyaṇa, the Supreme Personality of Godhead, is beyond this cosmic manifestation." And then again he confirmed, "That Supreme Personality of Godhead, Nārāyaṇa, is Kṛṣṇa. He has come as the son of Devakī and Vasudeva." He particularly mentioned the names of His father and mother. So Kṛṣṇa is accepted as the Supreme Personality of Godhead by all transcendentalists. There is no doubt about it. Our source of knowledge in Kṛṣṇa consciousness is the Bhagavad-gītā, which comes directly from Kṛṣṇa. We have published Bhagavad-gītā As It Is because we accept Kṛṣṇa as He is speaking, without any interpretation. That is Vedic knowledge. Since the Vedic knowledge is pure, we accept it. Whatever Kṛṣṇa says, we accept. This is Kṛṣṇa consciousness. That saves much time. If you accept the right authority, or source of knowledge, then you save much time. For example, there are two systems of knowledge in the material world: inductive and deductive. From deductive, you accept that man is mortal. Your father says man is mortal, your sister says man is mortal, everyone says man is mortal—but you do not experiment. You accept it as a fact that man is mortal. If you want to research to find out whether man is mortal, you have to study each and every man, and you may come to think that there may be some man who is not dying but you have not seen him yet. So in this way your research will never be finished. In Sanskrit this process is called āroha, the ascending process. If you want to attain knowledge by any personal endeavor, by exercising your imperfect senses, you will never come to the right conclusions. That is not possible.
There is a statement in the Brahma-saṃhitā: Just ride on the airplane which runs at the speed of mind. Our material airplanes can run two thousand miles per hour, but what is the speed of mind? You are sitting at home, you immediately think of India—say, ten thousand miles away—and at once it is in your home. Your mind has gone there. The mind-speed is so swift. Therefore it is stated, "If you travel at this speed for millions of years, you'll find that the spiritual sky is unlimited." It is not possible even to approach it. Therefore, the Vedic injunction is that one must approach—the word "compulsory" is used—a bona fide spiritual master, a guru. And what is the qualification of a spiritual master? He is one who has rightly heard the Vedic message from the right source. And he must practically be firmly established in Brahman..
-Swami Prabhupada's introduction to The Isha Upanishad
oṃ pūrṇam adaḥ pūrṇam idaṃ
pūrṇāt pūrṇam udacyate
pūrṇasya pūrṇam ādāya
pūrṇam evāvaśiṣyate

Word for word:
oṃ — the Complete Whole; pūrṇam — perfectly complete; adaḥ — that; pūrṇam — perfectly complete; idam — this phenomenal world; pūrṇāt — from the all-perfect; pūrṇam — complete unit; udacyate — is produced; pūrṇasya — of the Complete Whole; pūrṇam — completely, all; ādāya — having been taken away; pūrṇam — the complete balance; eva — even; avaśiṣyate — is remaining.
Translation:
The Personality of Godhead is perfect and complete, and because He is completely perfect, all emanations from Him, such as this phenomenal world, are perfectly equipped as complete wholes. Whatever is produced of the Complete Whole is also complete in itself. Because He is the Complete Whole, even though so many complete units emanate from Him, He remains the complete balance.
Purport:
The Complete Whole, or the Supreme Absolute Truth, is the complete Personality of Godhead. Realization of impersonal Brahman or of Paramātmā, the Supersoul, is incomplete realization of the Absolute Complete. The Supreme Personality of Godhead is sac-cid-ānanda-vigraha [Bs. 5.1]. Realization of impersonal Brahman is realization of His sat feature, or His aspect of eternity, and Paramātmā realization is realization of His sat and cit features, His aspects of eternity and knowledge. But realization of the Personality of Godhead is realization of all the transcendental features—sat, cit and ānanda, bliss. When one realizes the Supreme Person, he realizes these aspects of the Absolute Truth in their completeness. Vigraha means "form." Thus the Complete Whole is not formless. If He were formless, or if He were less than His creation in any other way, He could not be complete. The Complete Whole must contain everything both within and beyond our experience; otherwise He cannot be complete.
The Complete Whole, the Personality of Godhead, has immense potencies, all of which are as complete as He is. Thus this phenomenal world is also complete in itself. The twenty-four elements of which this material universe is a temporary manifestation are arranged to produce everything necessary for the maintenance and subsistence of this universe. No other unit in the universe need make an extraneous effort to try to maintain the universe. The universe functions on its own time scale, which is fixed by the energy of the Complete Whole, and when that schedule is completed, this temporary manifestation will be annihilated by the complete arrangement of the Complete Whole.
All facilities are given to the small complete units (namely the living beings) to enable them to realize the Complete Whole. All forms of incompleteness are experienced due to incomplete knowledge of the Complete Whole. The human form of life is a complete manifestation of the consciousness of the living being, and it is obtained after evolving through 8,400,000 species of life in the cycle of birth and death. If in this human life of full consciousness the living entity does not realize his completeness in relation to the Complete Whole, he loses the chance to realize his completeness and is again put into the evolutionary cycle by the law of material nature..
Guru and the Light Within
by Swami Rama
From: "Samadhi:The Highest State of Wisdom"
Samadhi: The Highest State of Wisdom
By Swami Rama
ISBN 8188157015
Reprinted with permission of the Publisher
Copyright Himalayan Institute Hospital Trust (hihtindia.org)
Swami Rama Foundation
See also these articles:
Guru and Divine Grace
Guru chakra
Gurudeva is a Stream of Knowledge
Guru section of Kundalini Awakening
Swami Rama Articles
Twenty Four Gurus

If you prepare yourself to know the higher knowledge, then you will deserve. To deserve means to increase your capacity. You want to put the entire ocean in a bucket. The ocean is there. You can have it, but you do not have the capacity. When you deserve, you will have the capacity. The Lord, the Reality, the Truth, is always within you. You simply have to become aware. You can make sincere efforts to work with yourself.
The light itself will guide you.
Don't be disappointed with failures. When you start to make sincere efforts and start to practice, you will find light on the path. The light itself will guide you. The light of consciousness is within you. If you ignore that light, the guide outside you, the external teacher, will be of no use to you. He will make you a slave. Every individual has certain notions. He also lives with his notions. He creates a following and millions of people are swayed and misguided.
Do not depend much on guides.
It is better for you to
prepare yourself and remain awake.
Do you know what a guide means? The word guru has been vulgarized. Such a pious word is being misused. I call it guide. Do not depend much on guides. It is better for you to prepare yourself and remain awake. The scriptures say to wake up from the deep sleep of ignorance. Remain fully awake, remain conscious, and go on learning. Never close the door of learning. The day you close the door of learning you become ego, ego, ego.
In the Himalayas the teacher examines the student and the student examines the teacher. When my master sent me to various teachers he told me, "The teacher who can sit still for a long time is a good teacher because he has practiced something. Listen to him. If the teacher changes his posture many times in five minutes, do not waste your time there." There are certain signs and symptoms that have been explained by the great scriptures. The scriptures help the student to know who is a good teacher so he does not waste much time. Otherwise, what are we teachers doing?
Suppose you want to go to New York. You come to Swami Rama for directions and Swami Rama says to go this way. You meet a different Rama on the way and he says, "Oh, come on! He does not know anything. Go this way." And the student is very sincere. Then another teacher says, "Both Ramas are fools. Better go this way." By that time the poor fellow has wasted twelve years and he is nowhere.
The knowledge should be followed,
not the individual personality of the teacher.
The word teacher means "knowledge." The knowledge should be followed, not the individual personality of the teacher. The subject should be given prime importance, not the individual. Teachers have complicated things. Yoga science has suffered because of this. One teacher says, "This is my method." Another teacher says, "This is my method." The poor student is confused. After some time he finds that his mind, his individuality, and his pocket have been robbed.
From your external teacher
just pick up that which is useful for you
and leave that which is not useful.
When you become aware of the light within, and that light reveals the Truth to you, there are no chances of being misguided. Teachers come and go. From your external teacher just pick up that which is useful for you and leave that which is not useful. No doubt you need a teacher, a guide. I will never tell you that you should not seek and you should not learn from other people, or that you should not study books. Teachers only inspire you and make you aware of that Self-existence that you have forgotten. Their role is to make you aware of the Reality.
You do not need any new form. Christians should not become Hindu, Hindus should not become Buddhist, and Buddhists should not become anything else. They should remain as they are and not create any serious new problems for themselves. A known devil is better than an unknown devil. Remember this. Try to make your life happy wherever you are.
Go to the inner levels of your being
and be guided by the light
that is already within you.
Yoga science tells you to go to the inner levels of your being and be guided by the light that is already within you, that leads you in the darkness. If you understand the light within, when you are introduced to that light, you will not crave for any outer guidance. Learn to make your abode in darkness so that you can see the light, but not the superficial light. Superficial light creates problems for you and does not allow you to see the light within.
When you start treading the path you will never find any difficulty, for the light is already within you. The light within you is coming out. When I look at your faces I find that they are different because of the light that has the power of discrimination. That light can correctly judge and understand and know. That light is higher than any other light of the sun, the moon, and the stars. That is why human beings are superior to all these lights that you see outside yourself.
The purpose of a guide, guru, or teacher
is to introduce you to that light.
In the light of the sun, in the light of the moon, and in the light of the stars there is no discrimination. The light within you has the power of discrimination. You can use that light to see the darkest corners of your inner chamber. For that you do not need outer guidance. The purpose of a guide, guru, or teacher is to introduce you to that light..
Interpreting Sanat Kumara's message at face value, we have family who are looking after us, a "Golden Chalice" of Divine Wisdom and Love, guiding us, teaching us—even though we may not be able to see them. As in the excerpt above, the Vedic Knowledge comes from the Supreme God. We also have our own "eternal souls" and we need to remember who we are and this knowledge comes from the Supreme World or from the Words of Supreme beings. The "meek" are those who have stayed on the earth and are patiently waiting for the dawn of the New Day when we will be united with our family again. I do have a vision that accompanies this poem; I see the vision when I read it. I want to try and paint a picture of it…perhaps revive my artistic abilities. I think the vision is the answer to a more complete meaning of the message. It seems "far-fetched" but as Joe tells us, if we can dream it up, we can create it. And history actually backs up my vision, now that I think about it! I'll describe the vision in the next blog. I'm still putting all of this together--essentially the Egyptians may have believed that the Blue Water Lily held important knowledge since it represented their Supreme God and they viewed everything as sentient. Of course, the flowers have a wonderful fragrance and there are many depictions of them decorating with and smelling the flowers.
Serendipitously, I have just received a special message from a friend of mine named Dawn. Another teacher, her message is also timely because it expresses the importance of the Elementals of the Earth. Not only have we forgotten our relationship with the "gods" of the Supreme World, we have also forgotten our relationship with the Elementals. The Vedic tradition recognized that everything has consciousness, but only seems insentient due to a "veil of ignorance." "When elements become pierced they cease to behave like insentient forms of matter. Rather, they tend to behave like sentient or spiritualized forms of matter, which act as a source of consciousness and intelligence" (Cox, 2009, p. 13). This, of course, changes everything. As I had discovered in my research, there is a correlation between the Egyptian Blue Water Lily and the gods—and it seems this is for very good reasons which we've forgotten, according to the special message from my friend. This is just an excerpt:
There are three Lifewaves evolving on Earth. The Human Kingdom which you and I belong to as Sons and Daughters of God, the Angelic Kingdom which most of us are aware of and invoke in times of need, and the Elemental Kingdom which is the Divine Intelligence that draws the unformed primal Light substance from the Causal Body of God and manifests the elements of earth, air, fire, water, and ether which are used to create Humanity's Earthly Bodies, the Bodies of Mother Earth, and the bodies of the plant and animal kingdoms which are also part of the Elemental Kingdom.
The Elemental Kingdom is also the Divine Intelligence that is invested with the responsibility of projecting the earth, air, fire, water, and ether elements into the thoughtforms and emotions Humanity is creating everyday through the use of our free will and our creative faculties of thought and feeling. Without the Elemental Kingdom manifesting our thoughts and feelings in the physical world of form, we would not be able to experience the results of what we are creating on Earth. By actually experiencing what we are creating with every thought, feeling, word, and action we are learning what is loving and what is not loving about our creations. Step by step, we are learning to become cocreators with our Father-Mother God and we are learning to fulfill our Divine Potential. Source: Patricia Cota-Robles www.eraofpeace.org
The main thing to draw from the message is that the Elementals are important. They help us thrive in this world by drawing from the power and knowledge of the Vedic's "Supreme World" or one might say, the Implicate Order of Reality. They work in harmony and symbiotically with us in ways that are described in Joe's theory as discussed above. Thus, if I base my interpretation of the message on Vedic traditions, I should interpret it literally, perhaps as I see it in my vision. Maybe the gods are inspiring my vision or I am seeing something in the past, present or future (remember: when we "cross the river" there is "no time," at least not in the sense that most people experience it). Here is more information that relates to the significance of the Egyptian Blue Water Lily:
The flower is very frequently depicted in Egyptian art. It has been depicted in numerous stone carvings and paintings, including the walls of the famous temple of Karnak. It is frequently depicted in connection with "party scenes", dancing or in significant spiritual / magical rites such as the rite of passage into the afterlife. [2] Nymphaea caerulea was considered extremely significant in Egyptian mythology, since it was said to rise and fall with the sun. Consequently, due to its colourings, it was identified, in some beliefs, as having been the original container, in a similar manner to an egg, of Atum, and in similar beliefs Ra, both solar deities. As such, its properties form the origin of the lotus variant of the Ogdoad cosmogeny. It was the symbol of the Egyptian deity Nefertem.[3] http://en.wikipedia.org/wiki/Nymphaea_caerulea
In the beginning were the waters of chaos. Darkness and silence reigned but in the depths of the watery abyss lay the formless spirit of the Creator, the father and mother of all things... Darkness covered the waters until magical day that the Primeval Water Lily rose from the abyss. Slowly the blue water lily opened its petals to reveal a young god sitting in its golden heart. A sweet perfume drifted across the waters and light streamed from the body of this Divine Child to banish universal darkness.

This child was the Creator, the Sun God, the source of all life but every evening a water lily sinks below the surface and does not rise again until dawn. So the Primeval Water Lily closed its petals at the end of each day and vanished back into the waters. Chaos reigned through the night until the god within the water lily returned.

-- The Waters of Chaos
Utterance 249

264a. To say: O ye two contestants, announce now to the honourable one in this his name:
264b. N. is this sšsš-plant which springs from the earth.
264c. The hand of N. is cleansed by him who has prepared his throne.
265a. N. it is who is at the nose of the powerful Great One.
265b. N. comes out of the Isle of Flame,
265c. (after) he, N., had set truth therein in the place of error.
265d. N. it is who is the guardian of laundry, who protects the uraeus-serpents,
265e. in the night of the great flood, which proceeds from the Great.
266a. N. appears as Nefertem, as the flower of the water lily at the nose of Ra;
266b. as he comes forth from the horizon every day, the gods purify themselves, when they see him.

-- Mercer, S. 1952, The Pyramid Texts
The god of the blue water lily was Nefertem, a god not just linked to the sun but to beautification and healing. It was he who brought a water lily to the sun god Ra, to help ease the suffering of his aging body. The perfume of this flower was not only pleasing to the Egyptians, but they saw it as healing as well. Scenes show women holding the water lily and people being offered the flower at parties, smelling its divine fragrance. Some people today believe that the Egyptians used this plant as a narcotic both for its healing qualities and as a recreational drug when soaked in wine, though this is a hotly debated topic.
http://www.thekeep.org/~kunoichi/kunoichi/themestream/egypt_waterlily.html#.U0C1Shbn9jo#ixzz2y4GApTOE © Caroline Seawright
The lotus is a symbol in many ancient religions throughout the world. To the ancient Egyptians, a lotus bud or sesen was a symbol of rebirth. It closes in the evening and falls to the water; in the morning it opens and is lifted above the surface. Its behaviour emulates that of the sun. When the sun rises, the lotuses open their petals as if emitting radiation -- regaining consciousness, as it were.

The Egyptians believed that the world was originally covered by water and darkness. A Blue Lily sprang up from the water and opened its petals to reveal a young god, a Divine Child. Light streamed from the Divine Child to banish universal darkness. This child god was the Creator, the Sun God, the source of all life. When the Pharao known as King Tut was entombed, his body was covered in Nymphaea Caerulea (Blue Lily) flowers.


In Vedic literature the Supreme Person Krishna expands Himself ultimately into forms for creation called Purusa Avatars beginning with Maha-Vishn and through the agency of Vishnu He reclines in the coils of the cosmic serpent Ananta, within each of the millions of Universes, and a lotus stem emerges from his navel which blossoms into the flower wherein Brahma, born without Mother from the navel of Vishnu, first seeks out the source of his creation by meditation and penance before performing the function of sub-creation within his particular universe. The fourteen planetary systems are sometimes described as coiling around the Lotus stem.
The Lotus Flower [the Egyptian Water Lily is often confused with the lotus] is the most famous flower in Vedic poetry and literature in India as its soft colourful and extraordinary beauty have meant its feature in many philosophical and spiritual works where the Supreme Godhead's transcendental and spiritual form is compared to the beauty and softness of this flower and His eyes likened to the lotus petal.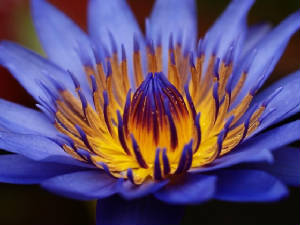 Thus, it's easy to see from the various excerpts that the Egyptians viewed the Blue Water Lily as sentient and sacred, and it also relates to "resurrection." But who is it who's being resurrected? Particularly if we consider that the Egyptian's "Book of the Dead" was really named the "Book of Life." I have described my own personal experience as one of "coming alive" as I actively replace the Thanatos experiences around me with Eros Love-based experiences as Joe advises.

If your feet are firmly planted on the shore of this world and you have not yet ventured to the shore of the Supreme World, these ideas may be difficult to relate to. When you can relate, you have a good handle on transcendence of many trivial things that most people of the world deem to be important.

Sanat Kumara had written, "Oh Golden Chalice of the Beloved Ones" which is exactly the same reference the Egyptians used for the Golden Chalice of the Blue Water Lily. They described it as being one of their beloved gods and at the same time the Supreme God. According to my research, King Tut was buried with the flowers and a depiction of the Lily with a head rising up out of the chalice. This is important to the interpretation, of course, but could the Golden Chalice be representative of something else too? We never finalize our interpretations; there are always multiple interpretations. Treasure hunts continue on.

Next time I'll discuss some personal conclusions in relation to the research uncovered on the treasure hunt so far. We still have far to go because as stated earlier, according to Vedic, Hebrew, and Egyptian Wisdom Knowledge, there are 12 Layers and 16 states of consciousness in the Supreme World. We will be "going for the gold" – as much as can be uncovered.

10:45 pm | link



Wednesday, April 9, 2014

Origins of the Golden Chalice: Developing Level 1 Wisdom and the Backlash Teachers Confront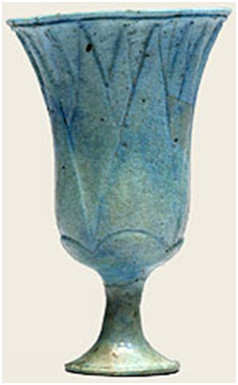 One of the biggest mistakes we make is trying to evaluate and describe history from today's knowledge base and current assumptions—often knowledge and assumptions that have been spoon fed to us for ulterior motives: to keep us stupid and sedated, in a trance. "FIDUROD!" It is worth understanding FIDUROD in depth in order to gain a greater understanding of how our blinders prevent us from seeing reality from the ancients' perspectives. All we really have to go on are interpretations—and it's important to be open about our assumptions when we make those interpretations (something the power wielders do a good job of hiding from us when they force-feed us their interpretations). Joe discusses this in great depth in Knowledge and Critical Pedagogy: An Introduction. Of course, teachers who take this more honest approach to teaching often experience a backlash from all levels of society and even find themselves unemployed. There is a reason. As Warren Zevon puts it, "the greedier just get greedier and the vulnerable get burned." Follow the gold.
There is currently a major agenda to keep us all stupid while we are being "enlightened." This website is NOT part of that agenda—it's why I choose to stay as totally disconnected from formal connections with any organization as I can. I advise doing some research into the United Nations Agenda 21 and determine how you are contributing to it in order to disconnect from it. Its tentacles are in every community across the globe, from the largest cities (where they want everyone to live) to the tiniest farming communities (that they're forcing people to leave). Their methods for teaching "enlightenment" is coming to a school near you soon.
Enlightenment ★ Spiritual Awakening Ascension Meditation 3rd Eye - Esoteric Agenda 5
The better way of teaching, the road to acquiring wisdom, involves a shift away from the popular socially-accepted forms of "constructivism" and objective-directed learning, and "mass consensus" to remaining ignorant. If you don't believe there's a mass consensus to remaining ignorant, have a brilliant child, send them to a public school, and watch their passionate flame to acquire knowledge become extinguished within two years. I made that mistake with my own children, and fortunately, time does heal—eventually—with support. But then being poor is another seemingly immovable obstacle no matter what we do.
This new way of teaching requires a shift toward Joe's Critical Constructivism by which we apply the 12 philosophical principles he's presented in his book. These 12 principles, I have proposed can take us to higher levels of consciousness, similar to the Vedic concept of 12 levels of Wisdom I described in earlier blogs. I have not yet "proven" this. It is a theory. It is not a "neutral theory," but I am being upfront and open about it.

Joe's Principle Number 1 states: "Critical constructivism is grounded on the notion of constructivism. Constructivism asserts that nothing represents a neutral perspective—nothing exists before consciousness shapes it into something perceptible" (p. 8).
The way I view this is that we can be lazy and let other people tell us what's truth—thus turning over our consciousness to them, or we can become proactive, question the validity of "truths," seek multidimensional perspectives as is advised by this philosophy, and reconstruct new insights into what constitutes truth in various contexts.
This moves us to Principle Number 2 which requires that we do the work of interpretation: "Knowledge of the world is an interpretation produced by people who are a part of that world. Thus, understanding the nature of interpretation is a central feature of being an educated person" (p. 17).
Unfortunately, few people have been taught more empirical approaches to making their interpretations—they often do not even take the simple step of providing viable evidence, citations, or examples—or even describe experiences that support their interpretations. What we end up with when taking this approach are new religions, sloppy relativism, solipsism, "anything goes," lowered standards, and sadly, more harm engendered upon the very people that are allegedly being "helped." It becomes a dysfunctional system but if you don't play the game by the rules, you become among those who are shut out of the conversation—one way or another. They have multiple strategies, some very devious, others more subtle. Anything to shut a person up who wants to learn in order to redefine reality to meet the needs of those who are being oppressed.
Essentially, a more effective approach for gaining understanding involves, just as I'm demonstrating here, a cyclical, iterative process of interpretation and reinterpretation—the exploration of different contexts and asking "why?" questions. It can get complex, as presented with Joe's critical complex hermeneutics, but it can be "eased into" and researched further by practicing.
In fact, Joe advocates practice as an effective means of learning—we can learn as we engage in the process, even if we don't know the "right" nomenclature. He hints at the complexity this practice might entail in Principle Number 3:
"Interpretation cannot be separated from the interpreter's location in the web of reality—one's interpretive facility involves understanding how historical, social, cultural, economic, and political contexts construct our perspectives on the world, self, and other" (pp. 24-25).
Ancient Egyptian culture is one of those areas in which the public has been grossly misled and misinformed about through various means (historical, social, cultural, economic, and political). Part of that is due to how we have researched culture and misinterpreted what we've found without considering researchers' blind spots; part of it is a deliberate plan to subjugate and rule over people. That it's a deliberate act to desacralize Ancient Egyptian knowledge and culture is blatantly in your face at every Western event from the Super Bowl, Awards Ceremonies to the Olympics—and in popular music. And how many "mummy" movies have been made now? Our minds have been molded, often unconsciously, throughout our lives in relation to Egyptian culture.
How does this apply to my research results that led me to finding that an earlier reference to the "golden chalice" traces back to Egyptian culture—the Egyptian Blue Water Lily—not Christian doctrine and the Last Supper?
Paul Roberts quotes Bahn (1996) in his article about ancient Egyptian stone chalices shaped or decorated with the Sacred Blue Water Lily:
"No observation made in the present can really prove anything for certain about the past" (p. 16).
In relation to this observation, today we seem to have a cultural acceptance of using drugs in spite of the so-called "War on Drugs." If you want virulent arguments with mass attacks against you, advocate in a public forum against the use of drugs.
As a result of the popular acceptance of drug use, over and over again in the online literature, the Egyptian Blue Water Lily is evaluated from the perspective of today's popular focus on narcotics and using mind-altering drugs to reach alternate states of consciousness. Again, altered mind states are not the same as higher states of consciousness, by many scientific reports that generally get pushed to the background. Personally, I believe the Egyptians were much wiser than the common man of today who doesn't realize the push to use drugs actually comes from the nefarious beings who are set on controlling this planet. It's a very lucrative side business for many on up the ladder—so of course, they want to use every means possible to push those drugs on the public (both illegal and legal, prescription forms).
There have been no "controlled" studies—no serious studies of the Blue Water Lily and its purported psychotropic effects that I've been able to find via Internet searches here in the United States. There is no conclusive evidence whatsoever that these flowers can induce altered states of consciousness, much less higher states of consciousness or that the Egyptians used them for that purpose. There is a lot of conflicting information that makes it look like people are really stepping outside the bounds of rationality to make those forms of conclusions. For example, it is claimed that the substance, apomorphine, is found in the blooms and that alcohol confounds the effect—and yet the one and only test I found used alcohol in the experiment. Other researchers explain that the form of the chemical component purportedly contained in the plant is not the same constituent that's used today to treat erectile dysfunction, and yet people make the claim that it is the same and can have the same effect as ED drugs. And so now we have massive sales of this plant for misguided purposes.
The only "test" I've been able to find (which is parroted all over the Internet) involved just two individuals drinking alcohol that had been treated by soaking the flower petals in it. Their descriptions of how they felt leads to no conclusions whatsoever; in fact, the comments seem rather ignorant. Could it have been the alcohol they were "feeling"? Or could it have been the "placebo" effect, since they knew the nature of the test? No conclusions can be drawn—and yet the test is cited all over the Internet as being some kind of conclusive evidence that the Blue Lily has psychotropic effects.
If it is true that there are some sort of significant psychotropic effects, why has this not been scientifically evaluated? Who is this today who wants us to believe psychotropic drugs are important for "raising consciousness"? Follow the money. Follow the "gold." Could it be the "government" considering they list the Egyptian Blue Water Lily in their GRIN database as having "narcotic" properties—without the supporting evidence? See: Nymphaea caerulea. Funny that no other information is given (is that why they choose to name their database GRIN—due to its inaccuracy and incompleteness?).
Conclusion: The Golden Chalice of the Egyptian Blue Water Lily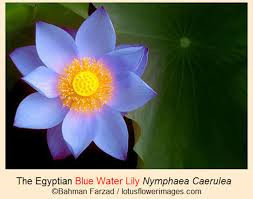 As was shown in the last blog, my research into "golden chalice" serendipitously led to the Egyptian Blue Water Lily. The flower opens during the daytime and has a bright golden center "chalice" and it was sacred to the Ancient Egyptians. The word chalice had led to ciborium, another word for chalice that the Catholic Church uses, which then led to the specific reference to this particular lily.

In my studies of the Egyptian Blue Water Lily, what have I learned? First, the Egyptian Blue Water Lily is mistakenly referred to as a lotus in the literature, over and over again—ad infinitum. It is not a lotus. It is a water lily. Of course, we are all guilty of repeating misinformation, given almost everything we think we know is wrong. We have a deep hole to dig ourselves out of when it comes to truth and knowledge.

Secondly, it seems clear that the "chalice" as a container that holds drinks, as based on and inspired by the Egyptian water lily is ancient. The plant was sacred to the Egyptians and appears to represent resurrection. It was associated with their god, "Nefertum, the god of perfumes" (Roberts, p. 2).

"Nefertum is especially associated with the blue water-lily, depicted as an anthropomorphic deity emerging from the flower with a headdress of lily blooms" (p. 2).

That the chalice had special significance to the Egyptians is not much of a question. They used lily-inspired chalices as drinking vessels, although most often it seems that the interpretation is that they used them for drinking wine. Is that necessarily the case? Again, from Roberts, we have:

"Since Queen Tworse is depicted in an elegant robe this may be suggestive of a possible ritualistic aspect. Wine may not, however, have been the only libation connected, but water also. The Egyptians are believed to have been obliged to send Nile water to the King's table as tribute, but also the water-lily's aquatic habitat may also have been more symbolically associated with the chalice had it have been a water vessel" (p. 10).

From Egyptian artwork, the water lily-decorated chalices are shown in various forms and used to serve food as well as serving as containers for flowers and fruit. Some researchers also associate these types of containers or vessels with cosmetics and oils, and the size and shape of these vessels for these purposes varied.

There is no doubt that the water lily was important to the Egyptians. Their culture flourished along the Nile River and the Blue Water Lily was indigenous to the area, along with the White Water Lily. Interestingly, during my research, I found that the Blue Water Lily is described to open its blooms during the daytime—and the bright golden chalice in the center represented the sun, their God—while the White Water Lily's blooms (the other local water lily) opened during the night and closed during the day. A researcher of her own Ancient Egyptian culture has informed me that the Egyptian "Book of the Dead" was originally titled "The Book of Life." She said the title had been altered. How does that revelation change our perspective? It seems that we have been misled about some of the important attributes of Ancient Egyptian culture—were they more focused on life, love, rebirth, and creation than on death? The Blue Water Lily was associated with these very ideas in some of the ancient texts cited on the Internet (see references).

This has only been a partial analysis—an analysis that can be taken much deeper to explore more historical, cultural, religious, political, etc., dimensions of the chalice. For example, recall that I was led to the Egyptian Blue Water Lily by the term the Catholics use for golden chalice—the ciborium. Here, the religious, sacred symbolism has been greatly altered from the Ancient Egyptians' meaning of the chalice as a symbol of rebirth, and is often used by Catholics for communion to hold what represents the blood of Jesus. This idea of drinking blood as if that could make someone "holy" has always repulsed me (where did the idea come from and why?), but it was de-emphasized at the churches I attended in the past, and it seemed more like a meaningless ritual.

As Joe reminds us in his book, Critical Constructivism:

Power regulates discourses; discursive practices are defined as a set of tacit rules that regulate what can and cannot be said, who can speak with the blessing of authority and who must listen, whose socio-educational constructions are scientific and valid and whose are unlearned and unimportant. . . . Thus, the culture of schooling [and other social institutions] privileges particular practices and certain methods of discerning truth. Foucault argues that truth is not relative (e.g., all world views are embraced by different researchers, cultures and individuals of equal worth), but is relational (constructions considered true are contingent upon the power relations and historical context in which they are formulated and acted upon). This is a central tenet of critical constructivism" (pp. 36-37).

Unfortunately, the masses who choose to remain lazy and ignorant (or too damn busy trying to survive) preside over the passionate seeking of knowledge and learning greater truths. Far too many people are comfortable in their lack of knowledge and, thus, support each other in their ignorance. We do the work of oppressing each other through our various cliques and divisions and repeating easily obtained "lies-as-truths" so that those at the top don't have to.

Joe has added the important component of Liberation Theology that could help us out of this dilemma—the act of identifying with those who have been "excluded and subjugated." With the above tenet it's important to realize that this subjugation has occurred in almost every cultural context we might study—as well as it continues today. "Accordingly, one of the main goals of critical constructivism is to reveal ways that dominant schooling serves to perpetuate the hopelessness of the subjugated. On the basis of this knowledge, of their 'dangerous memory,' strategies for overcoming such oppression can be developed" (p. 37).

This must extend to all social settings where there are "dominators" and pushers of ideology and "happy followers." If we can't advance enough to openly discuss truth and knowledge in behalf of everyone—not just a chosen few who think they're elite--this world is doomed. And before we can even get to that point, sacred love must return to this planet—which in many ways looks a bit hopeless at this particular juncture. It was Freire who had observed that dialogue cannot take place without love. He was not speaking of just any form of love—he was speaking as Joe has spoken—about Divine Love. I'm not sure how we get there from here. People just do not want to hear the truth about sacred love. They can't believe something they don't experience and if they don't believe it, of course, they'll never experience it.

To conclude, in this blog, I've covered lightly Joe's Critical Constructivism (or Divine Wisdom) Principles 1, 2, and 3. We are still at the introductory levels, even though I used Principles 11 and 12 in the last blog to uncover the relationship between the golden chalice and the Egyptian Blue Water Lily.

Where else does the gold come in? King Tutankhamen was buried in a gold-lined coffin surrounded and covered with Egyptian Blue Water Lilies, according to my research. I'm sure, given enough research there are other connections. I've learned that there are people who believe to become "Holy" we need to drink "monotonic gold" and that this is what communion is all about. How far off the path can people get? The Holy Spirit came right to me; I did nothing, except love. I can't imagine drinking gold.

Next time, I'll provide a Level 1 interpretation of that original message from Sanat Kumara (see the last blog) that has prompted this research and describe how it relates to what's been uncovered so far.

I have no idea at this moment where this investigation will go from there. I am tempted to just close the door due to frustration and disappointment over my general observations of society as a whole—and education in general. When will the tide ever turn?

These are a few of the links I've studied, if you'd like to come to your own conclusions or follow your own Super Serendipitous links:

http://www.newadvent.org/cathen/03767a.htm

http://en.wikipedia.org/wiki/Nymphaea_caerulea

http://www.samorini.it/doc1/alt_aut/ek/emboden.pdf

http://www.bibliotecapleyades.net/sociopolitica/esp_sociopol_mindcon02.htm

http://www.touregypt.net/featurestories/lotus.htm

http://www.ars-grin.gov/cgi-bin/npgs/html/taxon.pl?25433

http://www.ars-grin.gov/cgi-bin/duke/ethnobot.pl?ethnobot.taxon=Nymphaea%20caerulea

http://ww2.aphrodisiacs-info.com/nymphaea-caerulea.html

http://www.thekeep.org/~kunoichi/kunoichi/themestream/egypt_waterlily.html#.U0C1Shbn9jo#ixzz2y4GApTOE

http://en.wikipedia.org/wiki/Chalice

Egyptian Blue Water Lily (psychoactivity & mythology - influence on monotheism)?

http://nilevalleystudies.tumblr.com/post/27357053579/the-egyptian-lotus-nymphaea-caerulea-the-blue

http://transplantedtatar.com/2012/07/14/kenilworth-aquatic-gardens/

http://en.wikipedia.org/wiki/Level_of_consciousness_(Esotericism)

http://phaistosgame.com/Phaistos04.htm

http://whatcomflowers.net/blue-lotus-flower-meaning.html

The Lotus and the Water Lily- Correcting the Confusion

About Their Botany, Iconography, Symbolism and Entheogenic Properties

http://www.academia.edu/1580254/The_Life-Cycle_of_an_Artefact

For the theoretical physics science side of things, the finding presented in this next video changes everything about everything, according to many scientists. Not very many people seem excited over this. Minds don't change overnight, I suppose. How might this change how we view reality and the quest to find a "theory of everything"?

Dr. Pierre-Marie Robitaille: On the Validity of Kirchhoff's Law | EU2014

9:18 pm | link



Monday, April 7, 2014

The Winding Trail of the Great Global Treasure Hunt Continues: The Golden Cupulate of the Sacred Egyptian Blue Water Lily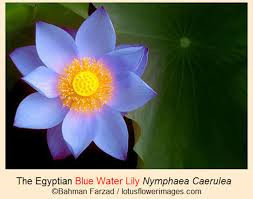 Welcome to Love Celebration Week (April 1-7), Day 7!
As we learned in the last blog, after crossing the river and stepping into the "new universe" there are 12 layers of Supreme Wisdom to learn about, according to the Vedic Model. Within those levels there are 16 states of consciousness.
I'm going to assume, for now at least, that as we work on those 12 layers of Supreme Wisdom, the states of consciousness develop naturally. Please do not make the mistake of assuming that "altered states" of consciousness are anything like natural states of consciousness. People love to argue this point and produce research in order to support their illicit drug use. There is ample research, as well as ancient knowledge that advises against using mind altering substances—you will become a servant to your subconscious barns if you try that approach and will soon find yourself quantum jumping off the Great Path and onto the Path of Destruction.
As we have also learned, Joe's book, Critical Constructivism, which is comprised of 12 Great Principles, seems to correlate with the work we need to do in order to develop the 12 layers of Supreme Wisdom. He has referenced the Vedic sciences in his work, so it makes sense that he would incorporate this Great Wisdom.
And, finally, I had received a special message from Sanat Kumara, which I will use as an example to analyze. I will only analyze small portions of it because to do a deep analysis is beyond the scope of blog posts. However, this will provide examples of how we might proceed as "neophytes," as the "Elite" like to call us. Here is the original verse:
Oh Golden Chalice
of the Beloved Ones
Who rest so peacefully
among the stars
Emerge from betwixt the
golden sun ray
And amber
cumulous clouds
Reveal the faces of
those eternal souls
To those who have
tarried and labored
The meek are waiting
patiently
The New Day will
soon Dawn
OH GOLDEN CHALICE
The poem begins with "Oh, Golden Chalice" which implies that it's something or some 'thing' very special. Taken in context of the entire poem, this interpretation holds up. However, how can we get to the deeper meaning of golden chalice? This is one of the purposes of the Global Golden Treasure Hunt—we are seeking the "Gold." This gold will, no doubt, take many forms, but this is Joe's bricolage and we're selective; not just any answer will do.
There are many meanings of Golden Chalice, including those I have mentioned previously in these blogs and in my dissertation. Some of them might be referred to as Level 0 meanings (e.g., that it's a literal chalice that supposedly Christ drank from), or Level 1 meanings (e.g., the Chalice that holds knowledge as we move forward on our Soul Journey).
But there is more! What do we end up with if we take it to Level 12? This is still a Great Mystery. However I did some research that has led to an interpretation that relates the Golden Chalice to The Sacred Egyptian Blue Lily, which was why I had highlighted this beautiful flower in the last blog. In this blog, I retrace my steps to demonstrate how we get from Level 0 to Level 12.
This particular metaphor of the Egyptian Blue Lily is highly significant for a number of reasons, and as will be shown, it has multiple layers of interpretation. For one, it represents Joe's Levels 11 and 12 Principles—and again, do these relate to 11 and 12 Layers of Supreme Wisdom? I don't know: we are exploring this idea. Nevertheless, these two principles are discussed in the last chapter of his book, titled "Blue Knowledge," which seems serendipitous.

With principle 11 he advises us to "expose elitist assumptions embedded in existing knowledge" and how "dominant power wielders have attempted to hegemonize individuals via the deployment of these knowledges in political economic, social, cultural, epistemological and pedagogical structures" (p. 143). This is interesting and implies many dimensions of analyses at Level 11.

For Level 12 (his "Principle 12") we are to "value subjugated knowledge." This would be the knowledge we discover when we seek beyond the standard "script." He tells us in this principle, "Utilizing the concept of the 'blues idiom,' we attempt to expand the concept of subjugated knowledge by drawing upon African American cultural knowledges. The result is a form of subjugated epistemology called blue knowledge" (p. 161).
Joe spoke often of the blues aesthetic; it was very important to him. While he mentions it in terms of African American cultural knowledges, I have also interpreted it in terms of being associated with the "Blue Ray" of the Great Spiritual Brotherhood, an Advanced Group of Ascended Master Teachers who I identify with and have learned from. In researching this there are correlations--both Joe and I are born during the time the "Blue Rays" came back to earth to do their work; we both identified with blue (we were both wearing blue the day we met in person).
For whatever reasons, I was led to tracing the Golden Chalice to the Egyptian Blue Lily. This meets the goals of Joe's principles 11 and 12 in several ways, which I'll explain later in this blog—but how in the world did I get there?
IT'S EPISTEMOLOGY AND ETYMOLOGY, MY DEAR WATSON
The first thing I did was take an etymological journey or "treasure hunt" to learn more about the word "chalice."
chalice (n.)
early 14c., from Anglo-French chalice, from Old French chalice, collateral form of calice (Modern French calice), from Latin calicem (nominative calix) "cup," cognate with Greek kylix "cup, drinking cup, cup of a flower," from PIE root *kal- "cup." Ousted Old English cognate cælic, an ecclesiastical borrowing of the Latin word, and earlier Middle English caliz, from Old North French.
http://www.etymonline.com/index.php?term=chalice
kylix (n.)
from Greek kylix "cup," cognate with Latin calix, from PIE root *kal- "cup" (see chalice).
The journey I took was explorative and intuitional. I explored several of the above terms and somehow ended up reading about the Catholic description of the caliborium, another word that represents the golden chalice.

I found the images very interesting and some of them remind me of various things, including a small, very special golden "pill container" I used to play with as a child—it was only about 1-1/2 inches high and was gold with a tiny lid that had a tiny golden ball on top. The top screwed into the recessed top opening of the container. It was very fine and could have been made of real gold--a miniature golden chalice. I used to love finding ladybugs in the weeping willow tree in our yard, and I'd put one in the container just before naptime. Then, when my mother made me take a nap, I'd open the container so that the ladybug could keep me company (I could never take naps). When naptime was over, I'd go back outside and set the ladybug free in the weeping willow tree.
I tell this story because it's so significant to MyStory—in that there is a Chinese legend that says if you catch a ladybug and set it free, it takes a message to your Twin Soul/Twin Flame and then you two shall meet. The weeping willow also comes up in my life over and over again, relating to a past life I remember and a song "Down by the Sally Gardens" and to my current life, including my first 'real' boyfriend--who was a philosopher named Joe (actually he was a college student, majoring in philosophy). Life is so strange when we're asleep at the wheel.
SO LADYBUG Twin Flames Heart Harmonic
Uploaded on Sep 26, 2010
What would be like to see or meet your Twin Flame?
How would it feel to vibrate in the same frequency?
SO_Ladybug brings the Twin Flames Heart Harmonic.
The frequencies are about relationships.
Integration of personality and spirituality.
Visualization, conceptualization and
hypersensitivity. The list includes binaurals:

Twin Flames Heart Harmonic...
341Hz, 10.5Hz Heart Chakra.
256Hz, 9Hz Root or Sacral Chakra.
15Hz, 172.06Hz, 480Hz Crown Chakra.
13Hz Brow Chakra.
33Hz Christ Consciousness.
Background Crystal Resonator.

I digress, but it's ok when it's about Love.
Back to the definition of caliborium and how I got from there to the Egyptian Blue Lily being related to the interpretation of the Golden Chalice. I found this definition:
Ciborium Definition
A chalice-like vessel used to contain the Blessed Sacrament. The word is of rather doubtful etymology, Some derive it from the Latin word cibus, "food", because it is used to contain the Heavenly Bread; while others trace it to the Greek kirorion, "cup", because of the original shape of this Eucharistic receptacle. The term was also applied in early Christian times to the Canopy that surmounted and crowned the altar (see article ALTAR CANOPY), but according to modern liturgical usage the word denotes exclusively the sacred vessel employed for the reservation of the Consecrated Species. [They should be] gold or silver (base metals are sometimes allowed), but the interior of the cup must be always lined with gold. Reference: http://www.newadvent.org/cathen/03767a.htm
What struck me as significant about this article about the ciborium was the statement about the "doubtful" etymology of the word—this implied to me that more research is needed and that we should extend past the first definitions we find, such as provided by the Catholic Church. I had also read that chalice relates to:

Greek kylix "cup, drinking cup, cup of a flower."
I used Joe's Point 11 to go beyond assumptions in existing knowledge. Thus, I researched more deeply the etymology of caliborium. There are many meanings:
Ciborium Definitions
from The American Heritage® Dictionary of the English Language, 4th Edition
n. A vaulted canopy permanently placed over an altar.
n. A covered receptacle for holding the consecrated wafers of the Eucharist.
from Wiktionary, Creative Commons Attribution/Share-Alike License
n. A fixed vaulted canopy over a Christian altar, supported on four columns.
n. A covered receptacle for holding the consecrated wafers of the Eucharist.
from the GNU version of the Collaborative International Dictionary of English
n. A canopy usually standing free and supported on four columns, covering the high altar, or, very rarely, a secondary altar.
n. The coffer or case in which the host is kept; the pyx.
from The Century Dictionary and Cyclopedia
n. A permanent canopy erected over a high altar; a baldachin.
n. Any vessel designed to contain the consecrated bread or sacred wafers for the eucharist.
n. A larger receptacle, often of marble, supported on a high stand raised over the altar or elsewhere, containing the pyx or the wafers themselves.
n. A sort of ambry or cupboard in the wall used for the same purpose.
n. In conchology, the glossy impression on the inside of the valves of shells where the adductor muscles of the mollusk have been attached; the muscular impression or cicatrix.
Etymologies
Medieval Latin cibōrium, from Latin, a drinking cup, from Greek kibōrion, probably of Egyptian origin.
(American Heritage® Dictionary of the English Language, Fourth Edition)
From Medieval Latin cibōrium ("drinking-cup"), from Ancient Greek κιβώριον (kibōrion, "the Egyptian water-lily's cupulate seed pod", or "a drinking-cup fashioned therefrom"). (Wiktionary) Source: https://www.wordnik.com/words/ciborium
Etymology: [ s&-'bOr-E-&m, -'bor- ] (noun.) 1651. From Medieval Latin cibōrium ("drinking-cup"), from Ancient Greek κιβώριον (kibōrion, "the Egyptian water-lily's cupulate seed pod", or "a drinking-cup fashioned therefrom")."" listed in the Oxford English Dictionary
Source: http://www.seslisozluk.net/danca/ciborium
Using Joe's Principle 12 about Blue Knowledge, "the Egyptian water-lily's cupulate seed pod" stood out for me as being the definition I should focus on. But I just did this intuitively--the words popped out at me, a phenomenon that happens often when I allow my research process to become intuitively guided. It's almost like I don't even see anything else--only what's relevant "in the moment."

I discovered only afterwards, while writing this blog, that selecting the Egyptian water lily to research further matches Joe's recommendation in Principle 12 (although I had, of course, read his principles many times, but did not have them memorized--I am doing this comparison improvisationally).
So my next step was to research "the Egyptian water lily" which led me to this article in Wikipedia:
Nymphaea caerulea, also known as the Blue Egyptian water lily or sacred blue lily, is a water-lily in the genus Nymphaea.
Its original habitat may have been along the Nile and other locations in East Africa. It spread to other locations, however, already in ancient times, like the Indian Subcontinent and Thailand. Source: http://en.wikipedia.org/wiki/Nymphaea_caerulea
I hit, "pay dirt" as the saying goes. The sacred Egyptian Water Lily is, synchronistically BLUE and it's also related to African American cultural history, both signifying Joe's Blue Knowledge, which reinforces that I'm on the right trail for a viable interpretation. Plus, the center of this beautiful flower and its cupulate seed pod are golden, representing the "golden chalice," even having been the derivative of the word "caliborium," which represents a golden chalice.

It's interesting how fast I was able to move to Joe's Eleventh and Twelfth Principles—by using a more intuitive approach to my research rather than linear or logical approaches. The multiple synchronistic "signs" may qualify this for "Super Serendipity" which I've discussed in an earlier blog, since I didn't know ahead of time what I would be finding and yet there are multiple significant signs.
Also, "action" became incorporated into my treasure hunting. This is a very important component in Joe's theory, and it always seems to manifest when we follow our path naturally. Ultimately, our action is toward the alleviation of suffering.
I was very curious about why the Egyptians loved the scent of the Blue Lily and why they used it as a form of aromatherapy during sacred ceremonies (they decorated with the fragrant blossoms and even buried flowers with their deceased loved ones). Of course, the Blue Lily has been highly commercialized today and has been inserted with modern hegemonic ideas; can we sort fact from fiction? (e.g., it's hard to find scientific information about the lily chalice).
My search had also led me to an eBay link where the dried, crushed flowers are sold and so I purchased some. I like to make aromatherapy sachets, so I may add this to my products, but mostly I am very curious as to the smell of these beautiful flowers. Will they bring back memories of a past life that I associate with during ancient Egyptian times?

I have learned that these treasure hunts, if we let our intuition and teachers guide us relate to our past forgotten histories, and I do have memories relating to a particular couple during ancient Egyptian times who were trying to unify the people and help them see that we do not need to worship "the gods" because there is but one Great Spirit/God/Allah (it has always been our purpose in every past life I remember).

Here's what my research has turned up:
Atenism
The Egyptians did have an aberrant period of some form of monotheism during the New Kingdom, in which the pharaoh Akhenaten abolished the official worship of other gods in favor of the sun-disk Aten. This is often seen as the first instance of true monotheism in history, although the details of Atenist theology are still unclear. The exclusion of all but one god was a radical departure from Egyptian tradition and some see Akhenaten as a practitioner of monolatry rather than monotheism,[16][17] as he did not actively deny the existence of other gods; he simply refrained from worshipping any but the Aten. Under Akhenaten's successors Egypt reverted to its traditional religion, and Akhenaten himself came to be reviled as a heretic. Source: http://en.wikipedia.org/wiki/Ancient_Egyptian_religion
As Amenhotep IV, Akhenaten was married to Nefertiti at the very beginning of his reign, and six daughters were identified from inscriptions. Source: http://en.wikipedia.org/wiki/Akhenaten
An interesting side note is that when I was very young, only about 18 years old, I used to draw pictures of Nefertiti and had made posters of her to hang in one of my first apartments. I truly identify with her for some reason, even though I've done very little research about her.

As we do this research, we come to realize how wrong the documented history is. When we "remember," we gain intuitive access to greater truths, aka the "Akashic Records." In my dissertation I discussed how scientists are beginning to understand this process not as an act of "remembering" in the traditional sense—but as learning during which we "open gates" to the knowledge within our DNA. If you're interested in this process, you might wish to research more.
Some additional "actions" I'll be taking on this current leg of the treasure hunt is that I will send for some seeds—the Sacred Egyptian Blue Lily can be grown in my geographical location. It will take patience. They take three years before they bloom, unless Sanat Kumara, (aka Eros) works some of his special magic, like he did when he grew red roses for me in his yellow rosebush. You just never know!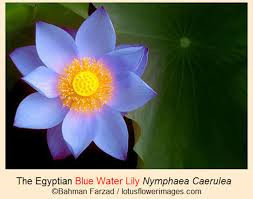 The Golden Cupulate Seed Pod of the Egyptian Blue Lily is quite outstanding in its GOLDEN appearance, a "golden chalice" as related to the message we're analyzing, and as shown in the photograph; the photo at the top of this blog shows it more clearly.

There is much more: there is the relationship of this sacred lily (it is not a lotus) to the Egyptian gods and a direct correlation to the message from Sanat Kumara, which we are interpreting. I'll get into the deeper interpretations and how they relate to that message next time. We will take a microscopic and macroscopic analysis—or in terms of "hermeneutics" a look at the parts and a look at the parts in relation to the whole.

It's important to remember that my journey is merely an example. Your journey will take you somewhere quite different—so follow your interests during this Great Global Golden Treasure Hunt. Click on links within links within links and take side "epistemological road trips" for a treasure hunt that's unique and relevant for you. My hope is that the links I provide will inspire you to learn more about those things that interest you the most.

Well, I will continue on with my day. Something tells me that Sanat Kumara and the rest of my soul family have something BIG planned for this Seventh and final day of the "Pleiadian" Love Celebration Week, also our anniversary celebration. He did tell me yesterday, "Happy 'A'" and I know that it relates to our anniversary and to the letters 'SA' in our names, but I think that all gets very complicated. It also seems to relate to Akhenaton in some way. And there are other interpretations, he has hinted. I'll report back tomorrow.

In the meantime, he suggested that I add the links of some additional research I did that may be of interest.

Demystifying the Higgs Boson with Leonard Susskind

Michio Kaku: Books, Education, Dark Matter, Explorations, Quotes, Religion - Interview (2010)

Brian Greene - The Hidden Reality

Dr, Kaku on "The Mind of God"

Dr. Kaku addresses how physics has revolutionized mathematics. In the video, Dr. Kaku says we might imagine God as we know him to be a mathematician:

"The mind of God we believe is cosmic music, the music of strings resonating through 11 dimensional hyperspace. That is the mind of God."


P.S. Every time I search on Sanat's clue he gave me yesterday morning, "A" this video about ants comes up. Ants are so amazing: How is it that they can live in such complex harmony, making such beautiful, symbiotically functional colonies, and people cannot? I just realized the correlation: Ants, Sanat, and Akhenaten, If you put Ants with Akhenaten, Sanat is hidden in the words! That must be a clue that Sanat was Akhenaten! AntS AkheNATen

Casting a Fire Ant Colony with Molten Aluminum (Cast #043)




The poor ants, but the creation is amazing.


Reference
Kincheloe, Joe L. (2005). Critical Constructivism. Peter Lang.

3:12 pm | link



Saturday, April 5, 2014

Can You Keep Up with the Great Global Golden Treasure Hunt? Synthesizing Love PLUS A Message from Sanat Kumara about the Golden Chalice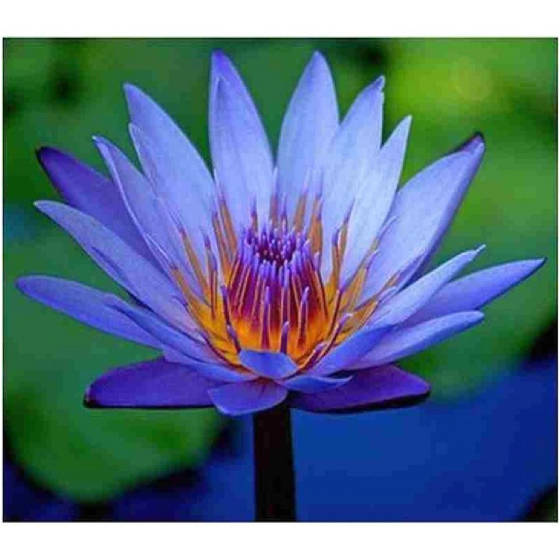 Welcome to Love Celebration Week (April 1-7), Day 5!
My last blog was very long and winding, and redundant in places. That is the nature of the Soul Journey: We literally travel an upward spiral pathway, often revisiting aspects of our previous cycle. And as Joe has mentioned in his theoretical presentation of bricolage, the same can happen when we research and write up our research for dissemination purposes. There are several reasons we must wind back around multiple times: it's a way of connecting neurons in our mind and making new pathways; it's a way of learning the lessons we need to learn; it's a way of learning in different contexts so that we'll be better able to apply what we've learned in new contexts; it's a way of conveying what we've learned so that other people may be able to apply it in their lives, etc. We can always edit our writing if we think we've been overly-redundant, but I have not done so with the blog. It represents where my thinking was going—and I kept returning to my dream of crossing the river due to my intuitive understanding of its significance.
There is much more interpretation possible. For example, it was my idea to swim across the river, and Sanat Kumara followed me. It's important that we make choices of our own free will and not feel compelled to do things. If a teacher is compelling us to do things, they are forcing their will upon us rather than serving as a compassionate guide. Sanat accepted that I was ready of my own free will to swim across the river, and he followed right behind me. Our teachers, and in particular, if they are our Divine Consorts, do not desert us. It was amazingly easy to swim across the river (I was ready). The water wasn't cold, it was smooth, the current was very gentle, and even though the river was very wide, it was an easy, relaxing, and enjoyable swim across.
And what have I learned? After crossing the river and stepping into the "new universe" there are 12 layers of Supreme Wisdom to learn about, according to the Vedic Model. Within those levels there are 16 states of consciousness. I am curious as to why the Ancient Masters had attached precise numbers; can we be so certain of the mathematics? Robert Cox, in his book Creating the Soul Body, presents the logic behind the math and how it compares with physics today. These ancients were defining the upper and lower layers of the cosmos with numbers so large and so small that they are beyond empirical verification even today—thus they represent the increasingly infinite and the infinitesimal limits of creation, which we can never perceive. Again, this makes me question whether we should be looking for an equation that unifies everything, unless it would be an equation that integrates LOVE into everything.

Robert Cox ended his book much as Joe has ended his work—highlighting the importance of Immortal Divine Love as being "the unifying aspect of pure knowledge" (p. 259). What would an equation that integrates LOVE look like? I can imagine part of the equation, but this is only one small aspect—perhaps to get our minds accustomed to the idea of integrating or synthesizing LOVE into all that is: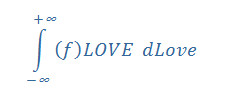 Some basic calculus might be helpful:

Of course, we can't put fixed quantities on LOVE and perhaps that's why Einstein's equation went infinite and infinitesimal (as depicted in the video in the last blog). In reality, we never reach full attainment, much less full understanding, of a power so great and that continues to grow infinitely; we can never achieve total unity, total LOVE, or expand in consciousness enough to take in everything, as I presented in the last blog. As Joe described it, we're trying to see the world within the world. However, the experience of a more greatly unifying and eternally growing love that propels passionate seeking, learning, and creating in relationship (as Joe and Einstein's theories present) is a beautiful eternal cosmic dance and an amazing musical performance all rolled into one.
I simply cannot overemphasize the importance of Joe's contribution to our understanding that can move education—and more importantly, our LIVES—permanently out of the boxed in prisons we're all encased in, to various degrees. I am constantly learning something new about his work—for example, during this Treasure Hunt, I've come to realize how his 12 unifying philosophical principles—which he refers to as a world view that he has presented in his book, Critical Constructivism correlate with the goals of the "Twelvefold Path" of all three ancient traditions—Vedic, Egyptian, and Hebrew. In Hebrew, according to Robert Cox, this is represented by the Twelve Tribes of Israel. But who are these tribes, really? History is very confused on this matter.

As Cox (2008) states, nevertheless, the three traditions "shared the same immortal wisdom regarding the forty-twofold path, [which must be walked first], as well as the same supreme wisdom regarding the twelvefold goal of the path [the "Twelve at the End"] (p. 258-259). And to correlate with the eternal nature of these twelve goals, of course, Joe has specified and demonstrated how they are continuously evolving.

Again, we are not after fixed answers to our complex questions, at least not at this level—the nature of consciousness evolution is a continuous, improvisational process--but also symbiotic and autopoietic. As we take this perspective in all of our research—whether for academic, professional, or everyday life purposes—or for Treasure Hunting—we will be more likely to find the treasures and gems hidden within the chaos and thus, we will be more able to construct useful and meaningful knowledge and solutions to the human-created problems on this planet.
I realize that there are people who believe I'm simply obsessed with Joe and his work. Twin flames/twin souls have a history of being accused of being obsessed—but it has been proven empirically that obsession is simply the wrong way to view Divine Love. Why would anyone wish to degrade love?—yet, sadly the majority of the human population does just that every day. The music and popular media (as I have discussed and presented in many past blogs) are simply bent on destroying love.

I also realize that those same people are stuck behind many blinders and cannot see the reality that Love is the foundation of the entire cosmos. I shall pray that more and more people remove their blinders and begin to see clearly the gifts that Joe has left for us all—and the immense love which compelled him to sacrifice to the extent he did—all in order to manifest his mission while he walked on this planet—for the greater humanity. I shall also pray that all of us will one day fully realize in our own lives a more thorough understanding of Immortality as the Ancients understood, and even beyond that understanding—and that we will all experience the miraculous creation power of Divine Eternal Love.

As if to punctuate the importance of Divine Love, I have been reminded that Love is Solomon's Key. Solomon holds the secret to the GOLD, as has been presented earlier in this treasure hunt. Many are in search for that gold, but are they misguided when it is Love that is key #1? Perhaps, this is why it must be mastered early during the Soul Journey. Paulo Freire, who was inspiration for Joe's work insisted that dialogue cannot take place without love. And of course, it is "the Word" by which creation can be manifested. Here's Solomon's Key #1; you can determine what it's deeper meaning might be:

THE KEY OF SOLOMON
BOOK I
CHAPTER I
CONCERNING THE DIVINE LOVE WHICH OUGHT TO PRECEDE THE ACQUISITION OF THIS KNOWLEDGE
SOLOMON, the Son of David, King of Israel, hath said that the beginning of our Key is to fear God, to adore Him, to honour Him with contrition of heart, to invoke Him in all matters which we wish to undertake, and to operate with very great devotion, for thus God will lead us in the right way. When, therefore, thou shalt wish to acquire the knowledge of Magical Arts and Sciences, it is necessary to have prepared the order of hours and of days, and of the position of the Moon, without the operation of which thou canst effect nothing; but if thou observest them with diligence thou mayest easily and thoroughly arrive at the effect and end which thou desirest to attain.
Source: http://www.sacred-texts.com/grim/kos/kos06.htm
And so, I'll end today's blog on that note. I hope you'll continue your own personal treasure hunt, and hopefully these blogs—my personal journey that began back in May of 2009--can in some way be helpful.
The Great Global Golden Treasure Hunt will continue for quite some time, so it may require some work to keep up. Can you keep up? It will be worth it.
GOLDEN CHALICE MESSAGE
Before I end, I received a special message from Sanat Kumara this morning. The message is deeply encoded, however. I have learned that manifesting the 12 layers of Supreme Wisdom requires practice decoding messages like this. We need to take them to minimally 12 levels of interpretation. I've started with just the term "Golden Chalice" and I've only reached the third level so far and already it means something entirely different than we might first think. Now I am really curious as to where this Treasure Hunt is leading. I'll do some decoding in the next few blogs. The photograph at the top, the Egyptian Blue LILY (not Lotus), is a clue to some of the decoding I've already done.

Here's the message:
Oh Golden Chalice
of the Beloved Ones
Who rest so peacefully
among the stars
Emerge from betwixt the
golden sun ray
And amber
cumulous clouds
Reveal the faces of
those eternal souls
To those who have
tarried and labored
The meek are waiting
patiently
The New Day will
soon Dawn

Egyptian Blue Lily image courtesy of sonofdad2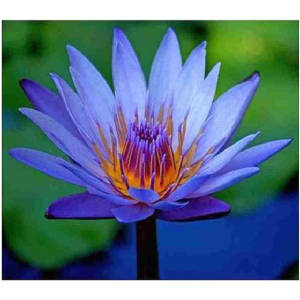 9:29 pm | link



Thursday, April 3, 2014

Love Celebration Week and The Great Global Golden Treasure Hunt Continue: A Soul Journey, The Collapse of Physics, Uncle Albert Speaks Out, and Are We EATING the GOLD?


Welcome to Love Celebration Week (April 1-7), Day 3!

We've decided to extend "Treasure Hunting in Your Own Back Yard" for another few days. I don't know about you, but I could spend a lifetime doing this kind of treasure hunting. Of course, I interpret this broadly—as well as literally—as treasure hunting in my yard (I still have the assignment to bring out the metal detector and find something "midway" in the flowerbed), but I also could treasure hunt in my garage—I have boxes of things stored and really need to go through them. Maybe I could "cash out" on them by having a garage sale or selling some things on eBay. And I could treasure hunt in all of the books I've accumulated. I have quite a library now. Or treasure hunting in my own yard might involve research on the Internet, interpreting my dreams, or whatever happens to come up during the day.

A SOUL JOURNEY

That reminds me, yesterday I did happen to go "treasure hunting" in a book by Robert E. Cox called Creating Your Soul Body (hmm….after my last blog, I'm wondering if that should be soul bodies). As I discovered, consciousness evolution is much more complicated than most people realize. Anyway, I just serendipitously picked the book up and began reading it and realized I was reading about the very dream I described yesterday! It gave another interpretation to the part in my dream where I swam across the river with Sanat following me and when we got to the other side there was a beach and ocean with lots of people fishing in the ocean. There were various places along the beach to fish and when we had walked toward one spot, the guy watching over the fishers had told us "Only 12 people are allowed." The dream ended there.

So I had picked up this book from the bookcase and began reading a very complex Vedic description of soul evolution. It begins in a chapter titled, "The Immortal Wisdom: The Immortal Aha Experience." It had been describing the various layers of soul progression and here, "the fortieth layer represents the shore of the other world, the imperishable and immortal world of the self."

Thus, in my dream, I had literally crossed the river to "the shore of the other world." And when I got there people were fishing—and only 12 were allowed at one particular spot. This can be interpreted to mean that I've transcended what the book describes as the "half measure." The half measure is the point midway between heaven and earth. "The soul must ascend and descend simultaneously. Further, it must descend below the half measure as far as it ascends above the half measure so that the scales of heaven and earth remain balanced in the soul's awareness. By doing this, the Tree of Good and Evil is transformed into the Tree of Eternal Life" (Cox, 2008, p. 51).

The book explains the very complex structure of Sanskrit letters and how they represent 54 layers our soul progresses through. Apparently the 55th Layer is God, and we never really reach that layer. To skip ahead and summarize, however, the fact that I had reached the shore of a "new universe" is significant. The book states, "When the soul finally washes upon the shore of the other world (representing the fortieth layer) the dissolved universe is reconstructed in awareness on the basis of pradhana, the truly imperishable substance of pure consciousness" (p. 209). This realization, this awareness, is the "Aha Experience" and is also represented by the way the Sanskrit alphabet has been constructed. Thus the dream and finding its meaning ssymbolizes this "Aha" moment.

Earlier in the text, it was explained that "the actual transition from mortality to immortality occurs in a single instant. It may take years or even lifetimes to prepare for this transition, but when it comes, it happens instantly—in a single flash of pure intuition" (p. 40). Thus, it becomes known as the "Aha Experience." The book describes this entire process according to Vedic philosophy.

In analyzing Joe's theory, it takes us through this process in some amazing ways. For example, as we practice "treasure hunting" or more formally, the research process that we have named "critical complex epistemology" and the "multidimensional critical complex bricolage," we develop our "analytic and synthetic powers." This corresponds with the Vedic practice of maintaining a balance between analytic and synthetic powers that are required for the Aha Experience. Robert Cox (2008) explains:

We can say that all forms of knowledge are cognized by a simultaneous process of analysis and synthesis: a whole may be analyzed into its parts, and the parts may be synthesized into a whole.

The word consciousness, like the word science, comes from the Latin scio, which means "to know." Consciousness is characterized by the ability "to know"—and the powers of analysis and synthesis are innate in consciousness. The science that underlies the spectrum of consciousness involves the relation between these two powers, whose strengths vary as a function of scale: Although both are at work on every scale of consciousness, the strength of the analytic power grows as the scale of consciousness contracts toward the infinitesimal, while the strength of synthetic power grows as the scale of consciousness expands toward the infinite. This means that the synthetic power dominates above and the analytic power dominates below.

Speaking mathematically, we can say that the strength of the two powers are related inversely as a function of scale. It follows that there can be only one scale in which the two powers are equal in strength and therefore balanced: the half measure, where the soul becomes balanced in preparation for enlightenment. . . . The actual dawn of enlightenment occurs when the soul grasps simultaneously point and infinity as well as the half measure (that is the midpoint between them), and takes its first step up the divine ladder. This first step involves both an ascent above the scale of the half measure and a descent below the scale of the half measure. By ascending as far as we descend, the analytic and synthetic powers remain balanced in awareness." (pp. 51-52).

Keep in mind that this is an interpretation, not proven fact. There may be other ways to interpret this process. Vedic literature also uses the bow as a metaphor, referring to it as the "Cosmic Bow." This brings me back to Eros/Cupid and the symbolism of his bow and arrow which he used to dispense Love. According to this text, the larger the bow—the farther apart the two ends the bow string is attached to—the greater balancing act required via analytic and synthetic powers, and the more powerful the bow becomes--and the more powerful the Love is that Eros can dispense. Thus, the more conscious we become of both the microcosm and the macrocosm, while also conscious of the "half measure," the more powerful we become. The deeper we can delve into the lower realms, the higher we can ascend into the upper realms. This explains all of the research I've been compelled to do that has involved investigating the Thanatos side of reality as well as the Eros Love side of reality—and it explains why Joe devised his theory to require us to explore these many different perspectives on deeper levels.

In science this same metaphoric seeking is represented by quantum theory (the microcosm) and Einstein's theory of general relativity (the macrocosm) and the twain shall never meet (i.e. no one has "solved" the theory of unity—so it's been stated). Here are a couple of short videos that highlight this issue:

.


Richard Feynman on the Double Slit Paradox: Particle or Wave?

Science v's God : Its The Collapse Of Physics As We Know it

There may never be a solution to this "problem" of not being able to find an equation that "unifies" the two perspectives because, perhaps we would have to BE God in order to understand at those levels—and we're just human; we are not Gods. But, at the same time, maybe we're more gifted than we realize and just need to appreciate and develop our gifts so that we are capable of greater understanding. Again, this is exactly what Joe's theory helps us with, if we put it into practice rigorously as he recommends.

The ability to maintain balance back and forth between analysis and synthesis relates directly to the creation power of the soul, according to Vedic text; the soul becomes a "master of creation" (p. 53). "Such a soul was deemed capable of performing what others would view as miracles. By its slightest intention, it can make the sun shine, the rains fall, and the winds blow—but its intentions must be in accordance with the will of God, the Supreme Being" (p. 53).

This process of simultaneous ascending and descending will ultimately bring us to the "AHA Experience" in which we comprehend and experience immortality, according to Veda texts. The letters in Sanskrit are extremely important to the interpretation of the soul journey. The letter a represents the "infinite self" (p. 218) and "ha" represents "the shore of this world" (p. 208). Once a soul realizes that the world is both deconstructing and reconstructing (the two forms of the "aha experience"), and they step beyond the shores of this world—as I did by crossing the river to the shore of the world beyond in my dream—then "the dissolved universe is reconstructed in awareness on the basis of pradhana, the truly imperishable substance of pure consciousness" (p. 209). We might interpret this "pure consciousness" as Divine Love, for creation is not possible without it; a part of this process involves Divine Union, "unification," climbing the Divine Stairway, and being midst "the gods," as described in this text. Again, Joe emphasizes Eros Love as the drive for the work we do; according to this philosophy then, we are more likely to do "Good Work." This is where the reference of "Great Work" and "Dharma" comes to play.

The analysis of my dream (and the soul journey) does not end here. The next step of the soul journey represents the reconstructed form of the universe, according to Cox. We learn that we are both mortal and immortal in the sense that Jesus described: "I am in the world but not of the world." While it might be easy to get lost in the "new universe" the goal is to maintain balance—knowing you're in the world and that it's important to maintain that perspective. It's also represented by that "double consciousness" that's often mentioned in the literature.

Cox presents several accounts as to what happens at the fortieth level, but I prefer the Egyptian version because it matches my actual experiences as I've described throughout my blogs since I began writing about this journey in 2009, and in my dissertation; and all of this happened before I was aware (conscious) of this knowledge. In doing an analysis using Sanskrit letters, I had previously ascertained that Isis (I-sa-s) is probably a member of my soul family (due to the SA sound common to all of our names), so it makes sense that the Egyptian perspective aligns with my experiences. I'll mention again here that many of the gods and goddesses of mythology were real people, not some vague "archetypes" as is so often presented. Scientists are beginning to understand better that we are all individual archetypes. But there is a lot of sorting out of this information needed because history has been changed, which has changed the stories, and the sciences have been lobotomized.

Thus, according to this text, "In the Egyptian tradition, the fortieth layer was represented symbolically by the Hall of Osiris, where the soul who has just arrived on the shore of the other world is greeted by the family of truly immortal souls (the Grail family) and undergoes its final judgment. I'm not sure why they're called "the Grail family." I have met my soul family on both sides of the curtain and have reviewed my life history, have been given access to the akashic records, and have been in limbo, maintaining the required "balancing act" between feeling mortal and feeling immortal—as represented by being on the shore of the world before crossing the river to the other shore. In fact, I have often written about being "in the world but not of the world." It literally feels like that. It's worthwhile to note that Cox explains that Egyptian, Vedic and Hebrew versions of the fortieth layer all correlate, they just use different metaphors.

I will interject that this, again relates to the "theory of unity" that Einstein and scientists have been trying to solve. Perhaps there is no solution. If you review those equations that Michio Kaku was trying to solve in the above video they just went to infinity and infinite infinities—thus the message is that we can never understand "The All" or the full extent of creation. And this is what Vedic, Egyptian, and Hebrew sciences all predict. Consciousness is an infinite process and we can never reach omniscience, omnipotence, or omnipresence, although the ancients claimed "the ability to apprehend directly and intuitively the hidden reality of God" (Cox, 2008, p.7). Are scientists chasing a moving target, a golden carrot that's always beyond our reach?

According to Cox (2008), "Theorists around the world are currently collaborating on the development of a final scientific theory, a unified field, which acts as the source of all things in creation" (p. 1). This unified field is often referred to as the "holy grail" of science. And even though the theory is designed to study the behavior of this unified field, according to Cox, "Yet there is no direct, empirical evidence that the unified field exists; for all practical purposes, it is empirically hidden" (p. 1). As a result, we must begin inquiry on an "a priori basis" which expands inquiry to the implicate levels of reality. As Joe puts it, we must study the indirect effects of consciousness and be willing to be "fools of the gods" to gain a better understanding of reality.

There are, thus, two paths, as I've discussed before and in my dissertation (See "The Golden Chalice for Knowledge Production"). The old path is not working well and the two paths cannot be brought together, according to a wide