The material on this web site is here for education and research purposes under the "Fair Use" Copyright Laws (Title 17 U.S.C. Section 107). Wherever possible we have acknowledged the copyright holder and/or linked back to the original website.


Planetary Trend for the Twenty-First Century

Kincheloe advocates open source in his work. From a pflanetary perspective, in thfe future we will be moving away from the idea that the United States should dictate knowledge and copyright legislation to the world. The whole purpose of Kincheloe's work was to increase our awareness of the constraints to knowledge production and to open up the "knowledge spigot." As it stands, U.S. policy is grotesquely hampering flow of knowledge and forcing Western views on the entire world as well as forcing constraining, disempowering legislation on its own citizensf, even when it comes to interpreting fair use copyright legislation for educational purposes.

Open source provides great flexibility and this idea should continue to evolve so that all societies and their values and perspectives concerning the idea of "owning" digital numbers in hyperspace are considered and also that we consider greater, more altruistic purposes than "free market economics" which serve the few. Many cultures do not entertain property ownership the way the Western cabal legislates and have had Western values forced upon them through violence and political manipulation.

Ultimately, planetary copyright considerations need to be further researched using Kincheloe's critical complex epistemology and critical bricolage in an effort to better understand the complexities and interrelationships for the purpose of maintaining rights and contributions of alternative worldviews and for the purpose of limiting and rolling back dominant power constraints in place now. It would be great if someone took up that topic in Kincheloe's format of research. I may do so later, if I find the time.


That is my brief critical complex take on copyrights before doing extensive research on the topic. Once one delves into the topic, it is quickly found that there are U.S. corporations that operate by a double standard.


For anyone truly concerned strict copyright enforcement, even for educational and altruistic uses, a good exercise is to become intimately familiar with knowledge production as Kincheloe conceptualized it in its most multidimensional form. Then the folly of such concerns becomes apparent. That is not to say he was against copyrights; of course he wasn't. But do we really need them for the world of the future? That is the true question about this issue that humanity should wrestle with. Why do people ascribe to a "scarcity" model of living that requires a bizarre notion of ownership? That's just one question we need to answer and I can think of dozens more. It's a topic for another day. Perhaps the Story of Eros and Psyche and the Philosopher's Stone will provide better answers than have been developed yet today.


FAIR USE NOTICE This document may contain copyrighted (© ) material the use of which has not always been specifically authorized by the copyright owner. Such material is made available to advance understanding of ecological, political, human rights, economic, democracy, scientific, moral, ethical, and social justice issues, etc. It is believed that this constitutes a 'fair use' of any such copyrighted material as provided for in section 107 of the US Copyright Law. In accordance with Title 17 U.S.C. Section 107, this material is distributed without profit to those who have expressed a prior general interest in receiving similar information for research and educational purposes.

17 USC § 107 - Limitations on exclusive rights: Fair use

Notwithstanding the provisions of sections 106 and 106A, the fair use of a copyrighted work, including such use by reproduction in copies or phonorecords or by any other means specified by that section, for purposes such as criticism, comment, news reporting, teaching (including multiple copies for classroom use), scholarship, or research, is not an infringement of copyright. In determining whether the use made of a work in any particular case is a fair use the factors to be considered shall include—
(1) the purpose and character of the use, including whether such use is of a commercial nature or is for nonprofit educational purposes;

(2) the nature of the copyrighted work;
(3) the amount and substantiality of the portion used in relation to the copyrighted work as a whole; and
(4) the effect of the use upon the potential market for or value of the copyrighted work.

The fact that a work is unpublished shall not itself bar a finding of fair use if such finding is made upon consideration of all the above factors.
[Source: http://www.law.cornell.edu/uscode/text/17/107]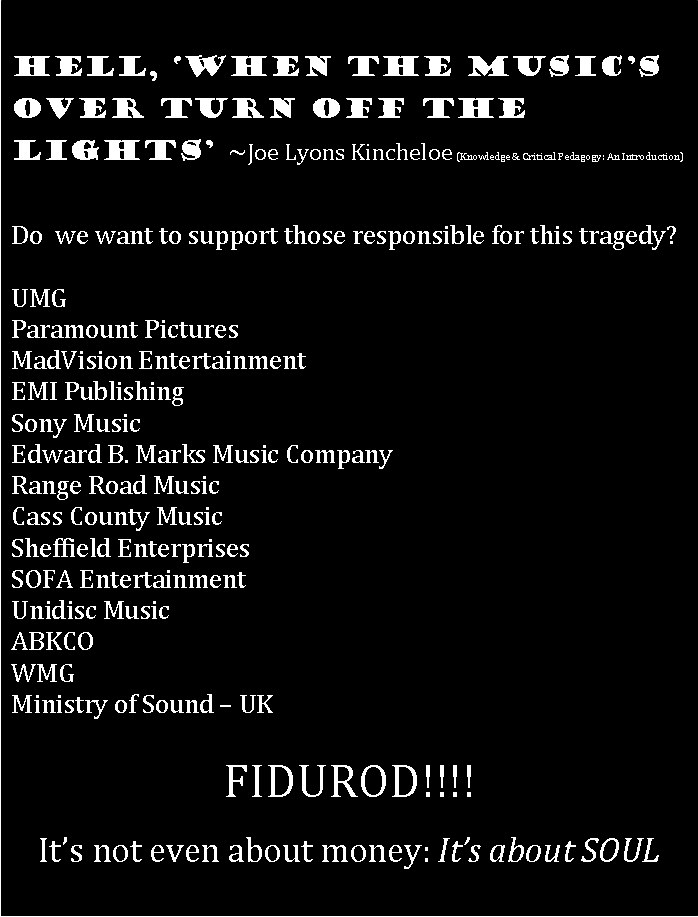 What is Open Video?
As internet video matures, we face a crossroads: will technology and public policy support a more participatory culture—one that encourages and enables free expression and broader cultural engagement? Will video be woven into the fabric of the open web? Or will online video become a glorified TV-on-demand service?Open Video is a movement to promote free expression and innovation in online video through open standards, open source, and sharing. Reference:
THE OPEN VIDEO ALLIANCE
Some Principles for Open Video
The Principles for an Open Video Ecosystem are a technical road map for a more decentralized, diverse, competitive, accessible, interoperable, and innovative future of video. We foresee more democratic, ubiquitous use of video—making it comparable to text and images today. The Principles cover the following topics:
Authorship and Viewing — Video creation, editing, and playback tools should be ubiquitous, easy to use, accessible, and available in free and open source implementations
Open Standards for Video — Video standards (formats, codecs, metadata, etc.) should be open, interoperable, and royalty free
Open Distribution — Software platforms should support open standards and open licenses. Networks must remain neutral.
A Rich, Participatory Culture — Laws governing intellectual property must not discourage participatory culture. By default, video content must be available without technological barriers or access constraints.
Civil Liberties and Basic Rights — People should have the right to participate in a democratic culture, the right to privacy, freedom of expression, freedom from censorship, non-limiting terms of service, and the right to self-distribution.
Help us refine these principles and translate them into many languages!
Open Video Alliance
What is Net Neutrality? What Are We Doing About It?

Reply from Oregon Congressman Peter DeFazio

Dear Ms. Paradis:

Thanks for your recent message concerning net neutrality. I appreciate hearing from you.

As you may know the concept of "net neutrality" simply defined is keeping Internet Service Providers from being able to arbitrarily stop, speed up or slow down internet traffic. What Internet Service Providers want to do is charge website owners differing fees and those who could pay the most would see their web pages load faster when viewed by someone online. Such interference would stifle innovation and would lead to a multi-tiered Internet where large companies willing to fork over cash would have an advantage over everyone else. We must ensure that the Internet remains a level playing field with equal access and no preferential treatment.

Four years ago the Bush Administrations FCC led by then Republican FCC chairman Kevin Martin announced four net neutrality principles that the FCC would apply, on a case by case basis, to communications law. These four principles are as follows;

1. consumers are entitled to access the lawful Internet content of their choice

2. Consumers are entitled to run applications and use services of their choice, subject to the needs of law enforcement.

3. Consumers are entitled to connect any legal device to the internet of their choosing as long as that device does not harm the network.

4. Consumers are entitled to competition among network providers.

These four principles have been enforced over the last four years. In 2008, Comcast was caught blocking users who were using a legal file sharing program. The FCC forced them to stop, however they have since filed a lawsuit claiming that the FCC doesn't have the authority to enforce the so called "four principles" of net neutrality.

As a response, the Obama FCC announced that it was moving forward on a rulemaking that would simply codify these existing 4 principles that now guide the FCC's oversight and enforcement of communications law. This is a proposed rule change and because of that is open to public comment. I urge you to go to http://fjallfoss.fcc.gov/ecfs2/upload/display?z=gybha or call them at 1-888-CALL-FCC to leave a comment to have your voice heard.

You can be sure that I will continue to fight for an Internet free of impediments. Thanks again for contacting me.
Internet Freedom and Internet Shills
The best way to show that the United States is better than repressive regimes is to be sure we don't act like them. Americans must know that no company can spy on customers, block Internet traffic, deploy invasive technologies, or censor speech. Companies shouldn't be able to use technology to control Internet content for commercial ends in ways that don't benefit Internet users. -- Josh Silver and Craig Aaron, SavetheInternet.com
Click on image and join the fight to save the Internet.
ARE YOU GETTING WHAT YOU ARE PAYING FOR?
I have COMCAST and I get
10%
of the mbps I pay for.
Work for a FREE and OPEN INTERNET
It is essential that we all get involved to ensure a free and open Internet. If big business is allowed to take over the Internet, we have lost our window of opportunity to utilize a free and democratic system in at least one dimension of our lives -- as well as the golden opportunity to work toward building a vibrant, democratic world.
You can support freedom of speech, creativity, and knowledge dissemination -- which is beneficial to us all -- by providing free, open source publications, images, multimedia, music, etc.
It truly is time to rise up and take a stand for open source and greater creative freedom in education. Please watch the following very informative video for a quick overview on the importance of an open source mindset for education. If education does not change, it is doomed. Check back again for more discussion and recommended venues in which it is worthy of our time and effort to take action.

THE DIGITAL DIVIDE IS ALIVE AND WELL





Please get involved today.