The Injustice of Mountaintop Removal Coal Mining in the Appalachian Mountains Part 2

As I had indicated in my last blog about the Appalachian Mountains, I am writing a series of blogs about mountaintop removal coal mining. This is a formidable issue that devastates so many people and is destroying and polluting a most diverse ecosystem in our country, as well as causing serious health issues that will be with us long into the future.
If you are against coal, you are against West Virginia and America. There's more global warming caused by the hot air coming out of environmental extremists than there is from burning American coal…
~ Don Blankenship, Massey Energy
Who is Don Blankenship?
Photo courtesy Vivian Stockman, www.ohvec.org. Flyover courtesy SouthWings.org.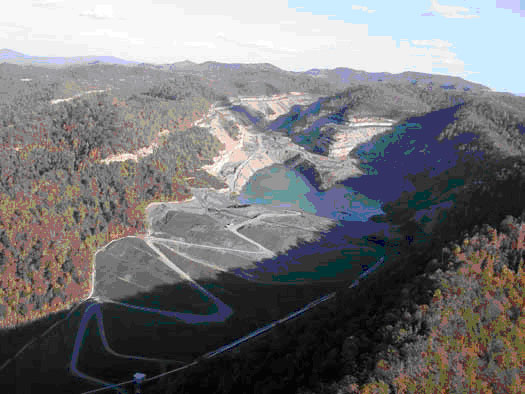 This is NOT a beautiful lake!
Marfork Coal Co.'s (Massey Energy) massive Brushy Fork impoundment
near Whitesville, WV, is designed to hold 8 BILLION gallons of sludge
This is a coal slurry impoundment, the toxic goo left over from cleaning the coal, and it consists of heavy metals, including mercury, lead, cadmium, arsenic, etc. This impoundment is only half completed. It will hold more than 8 billion gallons of sludge and the dam will rise 954 feet high. Massey Energy has already been cited more than 37 times, often for surface water contamination and runoff.
To the extent that a mountain is removed is a little bit of a misnomer. We are removing mountaintops, we're not removing the entire mountain. Well, sometimes it's the ground level…
~Chris Hamilton, West Virginia Coal Association
How Massey Energy Operates
When the Bush administration relaxed rules for mining, moutaintop removal mining became first choice. The mountains are blasted to get to the coal, and the rubble is pushed over the side of the mountains into the valleys. The US Army Corp of Engineers was assigned with the somewhat mundane task, in their view, of protecting America's waters, (they would rather be doing more important things), and the responsibility of issuing Nationwide 21 permits. These permits are issued without public notice when the environmental effects are considered "minimal," and the debris that consequently fills the streams is simply regarded as valley fill. A Nationwide 21 permit was issued to a Massey Energy subsidiary named Green Valley, and it allowed them to fill in 431 feet of a tributary of Hominy Creek with "prep-plant waste, rock, and dirt" In reality, this was a violation of both the Clean Water Act as well as the National Environmental Policy Act, which requires public notification (Shnayerson, 2008, p. 15).
Joe Lovett, the founder and lawyer for the Appalachian Center for the Economy and the Environment, filed a lawsuit. In the meantime, Green Valley filed for another Nationwide 21 permit that added the dumping of 21 million tons of waste over 422 acres – a large valley fill along with an impoundment (see photo above). With the lawsuit pending, they backed down, but the US Army Corp of Engineers approved the Nationwide 21, giving them permission to destroy 431 feet of Hominy Creek by filling it with debris and dumping debris over 67 acres. Massey had segmented the property to slide through with a Nationwide 21 permit and no public oversight. The Army Corp of Engineers had colluded with them. This action violated the Clean Water Act, which does not allow segmenting the scope of the operations for the purpose of evading public scrutiny. Nevertheless, Massey went forward with filling the stream before Joe had a chance to get a court injunction. "Don Blankenship had a reputation for signing off on every decision of consequence for the company's nineteen subidiaries. Don Blankenship was Massey" (Shnayerson, 2008, p. 18).
Who is Don Blankenship?
It is a well known matter of common knowledge that Don Blankenship is one of the most controversial and politically vindictive coal barons in the history of this state [WV]. Don Blankenship has promoted an extreme right wing agenda that makes most conservative Republicans look liberal… ~ Stephanie Heck, 2007, The West Virginia Blog
Don Blankenship is owner/CEO of Massey Energy. While several companies resort to mountaintop removal - "no one did it as aggressively as Massey or as recklessly" (Shnayerson, 2008). The Massey Doctrine separated mine operations into individual companies, forcing the union to negotiate with each one. The parent company had the power to shut down any one of them and start up anew outside any negotiations with the union. The miners were left no options, but to take whatever jobs there were for whatever Blankenship would pay them. For Don Blankenship, capital is king.
Justice for all or just between friends?
The debris from mountaintop removal mining has now buried thousands of miles of mountain streams. When finished blowing off the mountaintops, company officials point out that they plant grass, trees, and other vegetation, a process they call "reclamation." The truth is, when a mountain is destroyed, there is no possible way to ever restore it.

Golf, anyone? Is this what they call reclamation?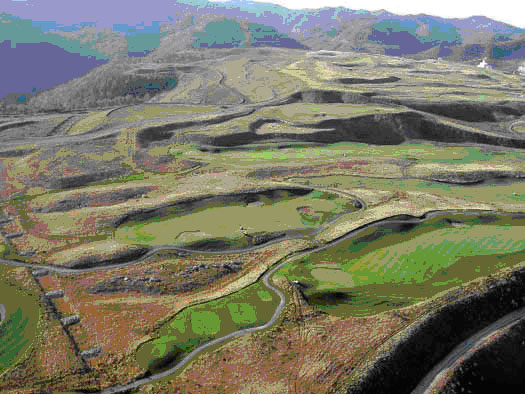 http://www.ohvec.org/galleries/reclamation/twisted_gun/index.html
Photo courtesy Vivian Stockman, www.ohvec.org. Flyover courtesy SouthWings.org.
Learn More!
This is your chance! if you haven't used it already, learn to use Google Earth! Through Google Earth software you can get close and personal to the people of Appalachia and also view the "massive scale of destruction…through stories, photos, maps, videos and interviews with residents." And it's easy!
Go to this Website and install Google Earth (if you don't already have it.) Once you get Google Earth installed, follow the instructions to zoom in on the Appalachian Mountains. Open the folder for Global Awareness, put a checkmark in Appalachian Mountains. Then double click on the Google Earth icon to zoom in to the Appalachian Mountains. You can put checks in the boxes below, or remove them. This activates the different layers of the map when checked. Click on the icons on the map to learn more. Zoom in on the map and more icons appear. There are photos, videos, photos, and narratives, etc.
If you would rather not use Google Earth, you can learn more at this Web site:
The National Memorial for the Mountains
The battle is never over.
Please get involved! for Sweet Appalachia!
Help me spread the word about mountaintop removal coal mining.
I just emailed the Environmental Protection Agency asking them to protect and enforce the "stream buffer zone" rule to protect Appalachian mountain streams from being buried by mountaintop removal coal mining. It was quick and easy, so please do the same by visiting: clean water!
A National Effort Is Needed
The following is from Joe Lovett's Website, Appalachian Center for the Economy and the Environment, and it is one of his priority actions as a part of the center's mission:
Nationalizing Appalachian issues: There are a handful of areas in the country that the environmental community, Congress, and the public treat as matters of national, rather than purely local concern. Few would say that all decisions about the future of the Everglades, the old growth forests of the Northwest and Alaska, or the Plateaus of Southern Utah should be left to local politicians seeking short-term economic gains. We seek to add the mountains, forests, and streams of Appalachia to this list of special places.
The purpose of this series of blogs is to contribute to the nationalizing of the Appalachian issues by raising an awareness of how extensive and all-encompassing the problem is and to promote activism in support of Appalachian communities.
More to come…watch for part 3...
with radical love,
vanessa
References
Shnayerson, M. (2008). Coal River: How a few brave Americans took on a powerful company – and the federal government – to save the land they love. New York: Farrar, Straus, and Giroux.
Speaking of the bailouts again, it looks like the coal companies came out winners.
Big Coal Cleans Up through Bailouts
Why is this happening? Well….take a look:
Do your Congress members support Mountaintop Removal?
Mine do. According to Follow the Coal Money my representatives take coal money, except Representative Peter DeFazio (D-OR04)
Senator Gordon Smith (R-OR)
Accepted $124,000 from the coal industry since 2000. $107,500 of those dollars were from industry PACS.
Senator Ron Wyden (D-OR)
Accepted $6,000 from the coal industry since 2000. $2,000 of those dollars were from industry PACS.
Representative Peter DeFazio (D-OR04)
Accepted $0 from the coal industry since 2000. $0 of those dollars were from industry PACS.
Representative Darlene Hooley (D-OR05)
Accepted $5,300 from the coal industry since 2000. $2,500 of those dollars were from industry PACS.
Check out your Congressional representatives at Follow the Coal Money Send an email (see sample, below) - it only takes a moment – thank the representatives who don't take coal money, like Representative De Fazio, here in Oregon.
[sample email]

Dear Member:
I am deeply concerned about the extent of the coal industry's influence on Washington.
Coal is not the solution to our mounting energy and climate crisis. We need to be encouraging the development and deployment of truly clean, diverse, and sustainable energy sources. Instead, our increasing reliance on coal is exacerbating many of the issues that I care most deeply about -- issues like global warming, and the health of our communities and our environment.
Yet politicians of both parties continue to use our tax money to subsidize the development of the coal industry to the tune of billions of dollars every year -- at a time when our nation should be getting serious about reducing our carbon emissions.
Perhaps it's partly because coal companies donated over 8 million dollars ($8,711,107) in the 2006 elections -- and have already spent $6,330,168 in lobbying expenditures this year.
I urge you to immediately stop taking money from the coal industry, and to start the transition to clean, secure sources of energy now. Our nation's prosperity and environmental security depends upon you declaring your independence from the dirty influence of coal.
Sincerely,
Vanessa Paradis
Help Save Gauley Mountain - sign the petition
I signed the petition "SaveGauleyMountain". I'm asking you to sign this petition to help us reach our goal of 1,000 signatures. I care deeply about this cause, and I hope you will support our efforts.
This petition states the demand to stop mountaintop removal on Gauley Mountain.
We hope to save this mountain and all of its natural beauty for future generations to come.
Click here to sign the petition online.
Also, you may want to download and print petition forms to collect additional signatures.
If you should have any questions, please feel free to call (304)-522-0246 Ext. 7, or email us at elle.cx06@gmail.com. Once you have completed the petition sheets mail it to OVEC PO Box 6753 Huntington, WV 25773.
Thank you for your help in our efforts to STOP mountaintop removal.
Photo credits: Ohio Valley Environmental Coalition